Free Things to Do in NYC
Visiting New York City will quickly burn a hole in your wallet. Even budget hotels are extremely expensive in comparison to most cities around the world. Enduring Wanderlust has compiled a multitude of quality activities throughout the city that will allow visitors to have an enjoyable experience without having to shorten their trip because of a lack of funds.
Cultural and educational
There are lots of free museums in the city including the National Museum of the American Indian and the Museum of American Folk Art. Several other museums are based on suggested contributions such as the American Museum of Natural History and the Metropolitan Museum of Art. The latter institutions expect a donation based on your ability to pay. Find a full list of the free museums in city.
Visit Ground Zero and St. Paul's Chapel for a grim remainder of the events of September 11, 2001.
Two must stops for visitors to the Big Apple are St. Patrick's Cathedral and Cathedral Church of St. John the Divine.
Take a self-guided Bob Dylan Tour (Greenwich Village). It covers lots of places connected to the great musician.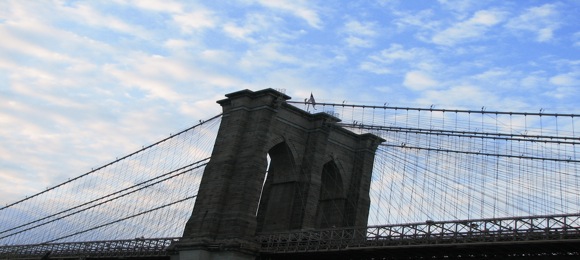 Brooklyn Bridge © Gennaro Salamone
Walking the city
Walk or bike across the Brooklyn Bridge for a beautiful view of the city. Consider having Grimaldi's pizza on the Brooklyn side of the bridge. Read about the best pizza in NYC.
Times Square is filled with animated neon and LED signs advertising a variety of products. No trip to the city is complete without wandering its streets.
Central Park is an oasis in this concrete jungle. It offers visitors a wide variety of walking tours,
activities, and attractions.
Entertainment
Numerous popular television shows are filmed in the city. These include David Letterman, Conan O'Brien, Rachel Ray, The Colbert Report, The Daily Show, Regis and Kelly Live and many more. Tickets to the shows are gratis for attendees. For free tickets, go to the show websites.
Club Free Time does an excellent job of listing free happenings in the city. These events range from art classes and concerts to site tours and book readings.
Concerts (Mostly Summer) are held throughout out the city. The free shows range from the New York Philharmonic and the Metropolitan Opera to Jazzfest.
Summer Stage (Central Park) offers several months filled with free performances. Watch for their new schedule about a month before the summer starts.
Seven bars who offer free food to customers. Be sure to check with the bar before arriving to see if their offer remains.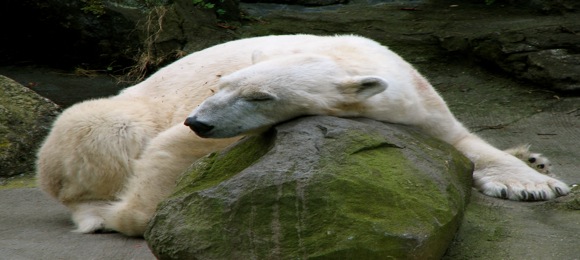 Polar Bear, Bronx Zoo © Gennaro Salamone
Fun with the kids
The Bronx Zoo (Wednesdays) is a perfect place to spend an afternoon. It has a wide range of wildlife along with plenty of activities for the whole family. Be sure to watch the feeding of the sea lions.
Free kayaking is available at the NYC Downtown Boathouse. You will be supplied with a kayak, life jacket, paddle, and some tips on paddling.
The Greenwich Village Halloween Parade is a fun and free place to show off your costumes.
On the move
The Staten Island Ferry provides free rides between Manhattan and Staten Island. From the deck of the ferry passengers have a view of The Statue of Liberty and Ellis Island.
RightRides provides free rides home for women on Saturday nights within a select area of New York City.
___________________________________________________________________________________


Gennaro Salamone is the founder and editor of Enduring Wanderlust. Feel free to contact him with questions, comments, or inquiries with reference to contributing an article or photograph for publication.
Receive our free content by e-mail directly to your inbox or through an RSS reader.