The Best Pizza in NYC
1. Di Fara Pizza
Domenico De Marco is the master of pizza-making. Di Fara Pizza thrives based on the mouthwatering flavor of each bite of his fresh pies. The unorganized, long lines are a worthwhile penance to bask in the joy that comes when Mr. De Marco uses a scissor to chop fresh basil onto your searing pie. For the ultimate ecstasy, order a pie with porcini mushrooms. Do note that take-out is the best option.
2. Grimaldi's Pizzeria
Grimaldi's Pizzeria is perfect for travelers arriving to New York City for the first time. Just take a stroll, from Manhattan to Brooklyn, across the historic Brooklyn Bridge and you'll be moments away from waiting in line for one of the best coal-oven pies in the world. Grimaldi's has fresh ingredients and a level of consistency that is unrivaled. Be prepared to sit in close proximity to your fellow pizza lovers.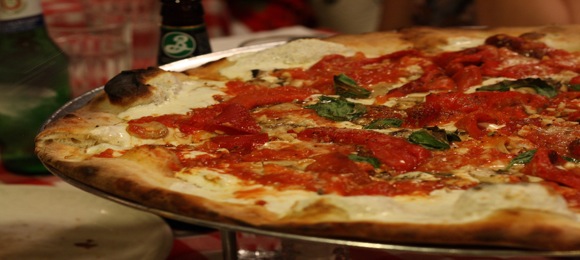 Grimaldi's © Eric Konon
3. Totonno's Pizzeria
This Coney Island institution has fans lining up to partake in a ritual of devouring its coal-oven masterpieces. The decor is simple, but the taste of Totonno's pies is divine. Don't be surprised to see a group of teenagers polish of a pie–each. Do note that the pizzeria closes once the fresh dough runs out for that night.
4. Famous Joe's Pizza
This award-winning institution is one of the few exceptional pizzerias to offer slices. Though the decor and seating aren't inviting, the mozzarella oozes off the thin-slices of this crowd-pleaser. This is the perfect place for an individual dropping in for a couple of slices or the backpacker who wants a quick bite of NYC's best without denting their wallet.
5. John's Pizzeria
The carved-wooden booths of this institution house hundreds of loyal, passionate clients who order pies at this no-slice haven. Long lines develop before lunch and dinner to taste John's scrumptious, thin-crusted pies. One of several coal-fired pizzerias on the list, John's customers always leave satiated.
6. Lombardi's Pizza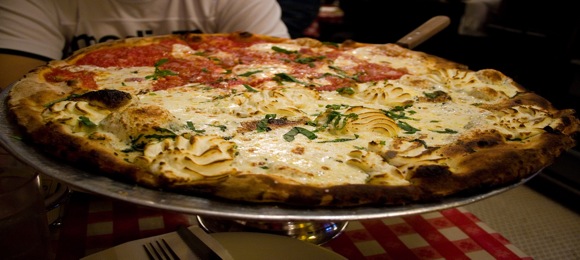 Lombardi's © Robyn Lee
Lombardi's was the first pizzeria in the United States. The original establishment opened its doors in 1905 by Gennaro Lombardi. Today, Lombardi's continues to make exceptional pies for its eagerly awaiting patrons. This cash only establishment creates the perfect crispy crust to go along with the aura of its history.
7. Una Pizza Napolitana *Closed
The most unique choice on the list is this Anthony Mangieri pizzeria modeled after the local Italian-style with wood-fired, brick oven pizza. With a limited menu of four pies, Una Pizza Napolitana relies upon fresh ingredients such as mozzarella di bufalo and San Marzano tomatoes to keep its customers returning.
8. Ottimo Restaurant
Ottimo is the perfect place for a group of friends who want to select from a variety of Italian fare. After the meal, those who didn't try the Neapolitan-style pizza with fresh buffalo mozzarella will be wondering if they made the best choice. Unlike most of places on the list, Ottimo has a restaurant ambiance with sufficient and comfortable seating.
Read about the best chocolate in NYC , the hundreds of free things to do in NYC , or some of the best authentic foods around the world based on our reader feedback.
___________________________________________________________________________________


Gennaro Salamone is the founder and editor of Enduring Wanderlust. Feel free to contact him with questions, comments, or inquiries with reference to contributing an article or photograph for publication.
Receive our free content by e-mail directly to your inbox or through an RSS reader.