3 Perfect Places to Befriend a Buddhist Monk
1. Luang Prabang, Laos
Luang Prabang is an enchanting town in Southeast Asia. It has numerous Buddhist Temples (Wats) that are filled with novices and monks practicing their faith. For the traveler, Luang Prabang provides an unmatched opportunity to converse with the novices (individuals who are studying in preparation for full ordination) of the temples. Each day novices study a variety of subjects including language courses. English has become increasingly popular among novices who will either become fully ordained monks or return to Lao society.
The easiest way to build a conversation with novices or monks is to spend a significant amount of time on the grounds of one of the many temples. In most cases you can approach one of its residence and ask a few questions about Buddhism to open a dialogue. After a few minutes, you will be immersed in a discussion about a variety of topics ranging from faith to your homeland.
Luang Prabang has seen a significant growth in tourism over the past few years. Be thoughtful in your approach with the temples and its residence. Remember that this is their place of worship and their home.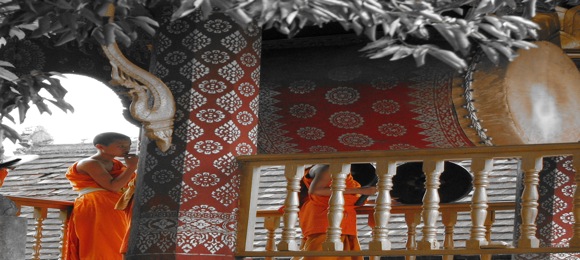 Luang Prabang, Laos © Gennaro Salamone
2. Mahabodhi Temple of Bodh Gaya, India
Bodh Gaya, India is where Siddhartha Gautama attained enlightenment. There are few places on earth that match the peacefulness of its Mahabodhi Temple, which was built at the Bodhi tree where the Buddha sat under around 530 BCE. Visitors to hectic India will be particularly relaxed sitting among countless Buddhist monks who make journeys to India to pay respect to the Buddha and to collect falling leaves from the famous Bodhi tree.
If you're lucky, you may be meditating next to the singing Thai monk who visits the temple regularly. He happens to have an affinity for tying Western music to Buddhist philosophy. You will likely hear: "keep smilin', keep shinin'." Knowin' you can always count of me, for sure" or "let it be, let it be. Whisper words of wisdom, let it be." The great philosopher will also help you deal with India's stifling heat with his little bottle of Thai Ang Ki, which cools your skin when added to a sprinkling of water.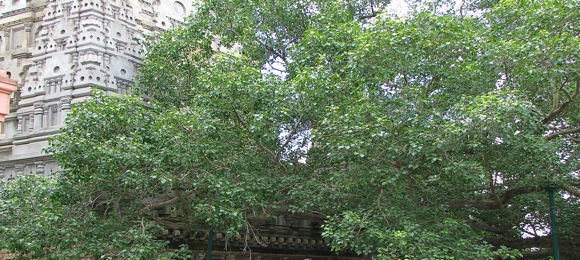 Mahabodhi Temple © Gennaro Salamone
3. Vang Vieng, Laos
If you can remove yourself from the crowds of young backpackers who are rock climbing, tubing down the river, and watching Friends re-runs in the restaurants of the city, Vang Vieng offers an opportunity to learn a lot about the life of Buddhist monks. You can wake up at the crack of dawn to donate food stuffs to the lines of novices along the main street of the town collecting for their temples' lunch. Later, it's possible to attend prayer sessions at the local wats. At one temple, the monks invited us to partake in the prayer ritual along with subtle lessons in etiquette.
There were fewer novices and monks who spoke English than at Luang Prabang, but an equal number of smiling faces ready to greet travelers who are interesting in Lao culture or Buddhist teaching. If you're seeking detailed explanations about Buddhism consider asking for the monk, at the main residency, who teaches English to novices.
Read about rock climbing in Laos or the six steps to a luck Chinese New Year.
___________________________________________________________________________________


Gennaro Salamone is the founder and editor of Enduring Wanderlust. Feel free to contact him with questions, comments, or inquiries with reference to contributing a travel article or photograph for publication.
Receive our free content by e-mail directly to your inbox or through an RSS reader.