6 Steps to a Lucky Chinese New Year
Chinese New Year brings forth celebrations throughout the world. Chinatowns from London to New York to Singapore will be filled with parade attendees enjoying dancing dragons, flexible acrobats, and dynamic fireworks displays.
Chinese New Year also brings about a fresh start for those wishing for a better upcoming twelve months. There are lots of traditions that help to bring about a fortunate year. Here are six of the most popular steps to a lucky Chinese New Year:
1. Using Citrus Fruit
Eating or displaying citrus fruits represents good health and a long life. It's common to see Chinese families with oranges and tangerines throughout their residence. They are also given as gifts. Pomelo, produced mostly in the United States and China, is said to bring luck and status. Pomelo is the biggest of the citrus fruits and has a sweeter taste than its ancestor the grapefruit. Try pomelo in a fruit salad or a variety of Asian dishes.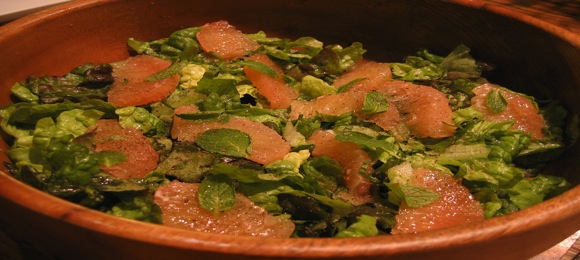 Pomelo Salad © SheriW
2. Cleaning and Decorating Your Home
Cleaning your dwelling before the New Year is a must for any Chinese family. It's believed that this ritual sweeps away the bad luck of the past year. All cleaning items are to be put away after the cleaning, as it's bad luck to use them on New Year's Day.
It's also important to decorate your residence to welcome in the New Year. It's especially lucky to use red décor. Placing flowers throughout the home is customary. Peach blossoms represent good luck and narcissus help to bring prosperity. The decorating isn't limited to the interior of the residence. It's equally important to place banners around the doorway. The most common symbols on the banners are a "door god" or the Chinese character fu for blessing.
3. Eating For Luck
There are plenty of options for dining on Chinese New Year. Jiaozi (Chinese dumplings) are eaten right after midnight to give family members good luck for the upcoming year. The dumplings are filled with ground meat and vegetables.
Jai or "Buddhist delight" is a vegetarian dish. Many Buddhists use it for purification during the first few days of the New Year. The ingredients range from lotus seeds and bamboo shoots to cabbage and fried tofu.
Common on every plate will be long noodles (uncut), which are said to bring a long life to the person who consumes it.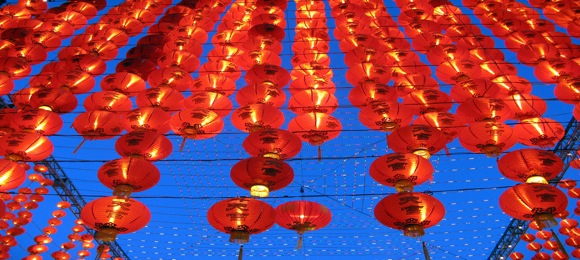 Red Lanterns, Singapore © Ryan Meuth
4. Red Money Envelopes
Red is the color of luck for the Chinese New Year. It is also the color of money or treat envelopes that are given to children. It's also common for red envelopes to be given to the unmarried by the married. The amount given has an important significance too. For luck, an even number is most common.
5. Fireworks Celebrations
Wearing Chinese traditional clothing, often newly purchased, is customary with lots of red and tints of gold for luck and prosperity for the New Year. Parades in Chinatowns, across the globe, will be filled with a sea of red clothing from attendees. It's believed that costumed dragons, dancing lions, and exploding fireworks scare off evil spirits. While fireworks have been banned for personal use by many governments, there continue to be professional displays in cities with significant Chinese populations.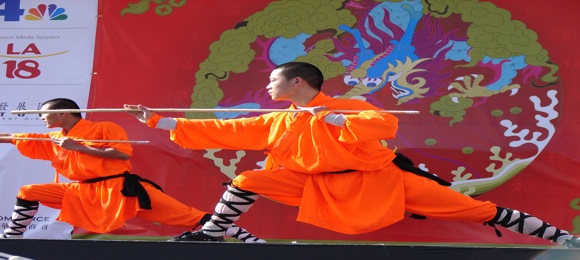 New Year's Martial Arts Demo © Julialat34
6. Greeting With "Gung Hey Fat Choy"
Be sure to wish everyone a "gung hey fat choy," which wishes others prosperity and wealth.
Want to learn more about Chinese New Year? Setting goals for the New Year? Feeling spiritual?
Read about the three perfect places to befriend a Buddhist monk, lifestyle design for the New Year, the world's most colorful Chinatowns, and celebrating Chinese New Year in Shanghai.
___________________________________________________________________________________


Gennaro Salamone is the founder and editor of Enduring Wanderlust. Feel free to contact him with questions, comments, or inquiries with reference to contributing a travel article or photograph for publication.
Receive our free content by e-mail directly to your inbox or through an RSS reader.