Who Travels the Most? [Chart]
Ever wonder which regions around the world have the most travelers? According to the World Tourism Organization or UNWTO, Europeans travel more than all other regions combined with a whopping 52.8 percent of all outbound tourists. Asia and the Pacific (21 percent) and the Americas (16 percent) make up most of the rest of the outbound travelers with the Middle East (3.8 percent) and Africa (2.9 percent) rounding out the field.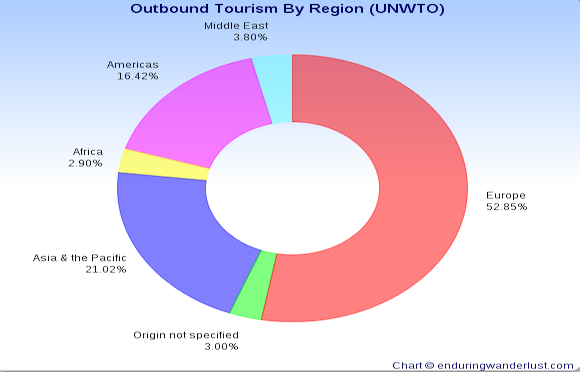 Who travels the most by region [Data © UNWTO and Chart © Enduring Wanderlust]
It's not surprising that Europe lands in the number one spot, but it's eye-opening that more Europeans travel than the rest of the world as a group. Despite the massive population advantage of the Asian region, it's still curious that the Americas fell behind that area. The Americas had more tourists from 1990-2005, but Asia and the Pacific has maintained the lead since 2005. That said, it's nice to see that all regions have seen significant gains in overall outbound tourists in the past two decades.
Where do all these tourists go? Read about the 10 most visited countries.
___________________________________________________________________________________


Gennaro Salamone is the founder and editor of Enduring Wanderlust. Feel free to contact him with questions, comments, or inquiries with reference to contributing an article or photograph for publication.
Receive our free content by e-mail directly to your inbox or through an RSS reader.