10 Most Visited Countries [Map]
Each year, the World Tourism Organization (UNWTO) collects data on the international tourist arrivals for every country in the world. The most visited countries for the past year included six from Europe, two from North America, and two from Asia (see map and list below).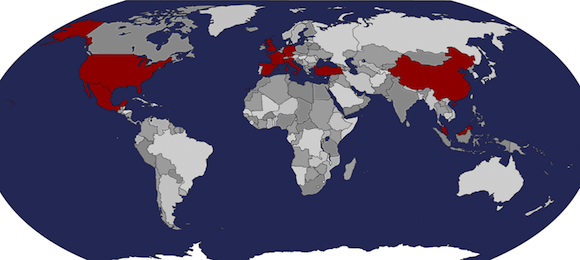 Most visited countries in the world [Map © Enduring Wanderlust]
1. France 76.8 million visitors
2. United States 59.7 million visitors
3. China 55.7 million visitors
4. Spain 52.7 million visitors
5. Italy 43.6 million visitors
6. United Kingdom 28.1 million visitors
7. Turkey 27 million visitors
8. Germany 26.9 million visitors
9. Malaysia 24.6 million visitors
10. Mexico 22.4 million visitors
*Statistics from the UNWTO
China made the biggest jump passing Spain, Italy, and the United Kingdom to reach third on the list. Another Asian country, Malaysia, is a surprising entry in the top ten most popular countries to visit. A past visit to Kuala Lumpur leads me to believe this is largely based on business travelers to the capital city. The rest of the list especially France, Spain, Italy, and the United States have been mainstays for many years.
Another important note from the UNWTO study was that world tourism arrivals went up this past year after dropping in the previous year. That was the first drop in overall tourism in the past two decades.
Check out this chart: Why do people travel?
___________________________________________________________________________________


Gennaro Salamone is the founder and editor of Enduring Wanderlust. Feel free to contact him with questions, comments, or inquiries with reference to contributing an article or photograph for publication.
Receive our free content by e-mail directly to your inbox or through an RSS reader.