The Best Cupcakes in Park Slope
The Park Slope neighborhood in Brooklyn is home to several of the tastiest cupcakes in New York City. Bakeries have been competing for two decades to win over the growing customer base for the small cake designed to satiate one person. Three Park Slope spots have developed cupcakes that would satisfy even the toughest critics.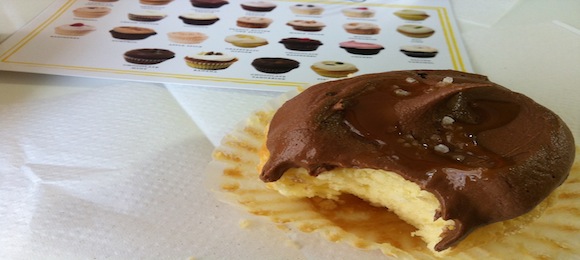 Butter Lane Cupcakes, Park Slope, Brooklyn © Gennaro Salamone
Butter Lane Cupcakes recently opened a Park Slope location after years in the East Village. Their French and American buttercream icing is extraordinary especially on top of a Sea Salted Chocolate cupcake. The general feel of the place is a lot better than the previous occupant — King of Cupcakes. There is a bench for two in front of the shop that might remind Sex and the City fans of the one Carrie and Miranda sat on in a July 2000 episode while munching on cupcakes and chatting about Carrie's new crush on Aiden.
A little further down 7th Avenue is Crespella, which specializes in crepes, but is also a retailer for Robicelli's cupcakes. Found in locations throughout the city, Robicelli's has delectable flavors including S'Mores, cheesecake buttercream, and apricot chardonnay cake. For chocolate lovers, head over to Ladybird Bakery (formerly Two Little Red Hens Bakery) on 8th Avenue for their Brooklyn Blackout cupcake. It consists of chocolate cake, chocolate pudding, chocolate frosting, and lots of chocolate sprinkles across the top.
Read about the best chocolate in NYC or view tasty candy bar cupcakes.

___________________________________________________________________________________


Gennaro Salamone is the founder and editor of Enduring Wanderlust. Feel free to contact him with questions, comments, or inquiries with reference to contributing an article or photograph for publication.
Receive our free content by e-mail directly to your inbox or through an RSS reader.