Recycled Masterpiece: Chandigarh's Rock Garden
Chandigarh, India is a pleasant surprise to travelers who have braved the chaos of the country's rickshaw-filled roads. The streets of this urban center are well-ordered with sculptures and trees throughout. The jewel of Chandigarh is Nek Chand's Rock Garden (Map). The garden is comprised of recycled materials including ceramic pots, glass bottles, sinks, and broken plates. It is a place of inspiration for those who support a movement toward green living.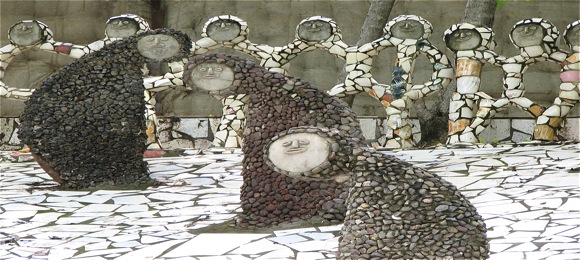 Chandigarh Rock Garden © Gennaro Salamone
For those making the journey, the garden has a maze-like path that features a multitude of creative figurines ranging from animals to human forms. You'll witness tourists and locals alike marveling at the modern wonder that was developed by Chand. On most days, locals are seen picnicking or sharing a romantic moment on the grounds (see below). To have a particularly unique experience, ask the information desk if Mr. Chand is at the garden during your visit. If so, he'll be more than happy to visit with travelers.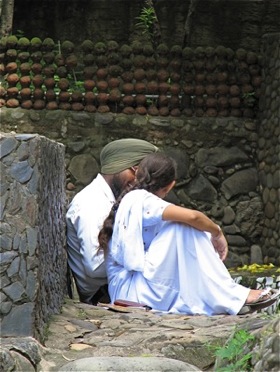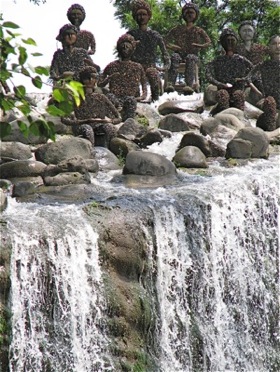 Chandigarh couple and waterfall © Gennaro Salamone
Toward the end of your walk, a lovely waterfall will appear with human figures atop it. This is a comfortable spot to relax for a few moments in shaded areas. Upon leaving the complex, it's a short cycle rickshaw ride to the Open Hand Monument, which remains the official logo of the city.
After returning to the city-center, consider having dinner at Ghazal Restaurant (Map). Ghazal has excellent service along with classic Indian dishes. For window-seating and extra attention from the staff arrive 15-20 minutes before traditional dinner is served.
If you're unsure about making the trip to Chandigarh consider combining it with a journey to the hill station of Shimla. Kalka, the town where the toy train to Shimla originates, is only an hour from Chandigarh.
Read about Bodh Gaya, India.
___________________________________________________________________________________


Gennaro Salamone is the founder and editor of Enduring Wanderlust. Feel free to contact him with questions, comments, or inquiries with reference to contributing a travel article or photograph for publication.
Receive our free content by e-mail directly to your inbox or through an RSS reader.