Historic Estates of U.S. Presidents
America has a fascination with its presidents. One of the best ways to delve into the character of each commander-in-chief is to visit their boyhood homes. Enduring Wanderlust has compiled six great estates to visit in Virginia, Massachusetts, and New York State.
1. George Washington's Mount Vernon (Virginia)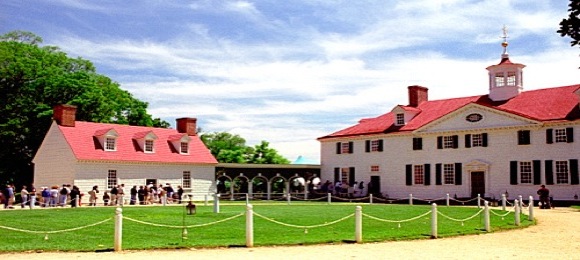 Mount Vernon, Virginia © David Paul Ohmer
Mount Vernon was the home of the first president of the United States. George Washington lived on this forty-five acre estate before and after his presidency. The grounds, including a spectacular view of the Potomac River, are open to the public. Washington's home also features several gardens, lots of farm animals, and a dozen trees that date back to the former president's generation.
A new National Treasure Tour has been set up for visitors who want to view behind-the-scenes information about locations where the filming took place a few years ago. Since the tours are popular, it's essential to book ahead. Tours run from March 1 – October 31, 2009 at 9:30am, 11:30am, 1:00 pm, and 3:00pm.
Regular visits to Mount Vernon are possible 365 days of the year. Admission is $14 for adults, $7 for children (ages 6 to 11), and free for children ages 5 and under.
2. John Adams' Peacefield or The Old House (Massachusetts)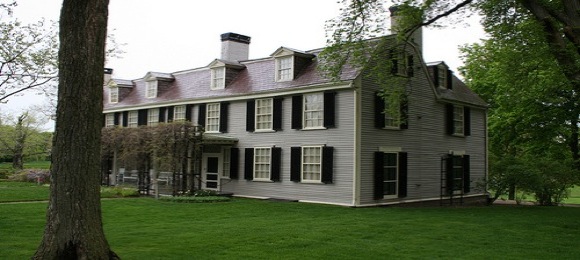 Peacefield, Massachusetts © Bart
Peacefield or The Old House was the home and farm of John Adams. It was the family residence of the Adams family for four generations. Adams' son, John Quincy Adams, was also president of the United States.  The house includes the Stone Library, which contains over 14,000 volumes.
As with Washington's residence, tours are available for visitors. It's smart to arrive early, as the house has become a popular tourist attraction since the publication of David McCullough's John Adams and the HBO Mini-series John Adams. The open season for the home is from April 19 through November 10. During this time it is open seven days a week from 9:00am to 5:00pm. Entrance fees run from $5.00 for adults to free entry for children under 16 years of age.
3. Thomas Jefferson's Monticello (Virginia)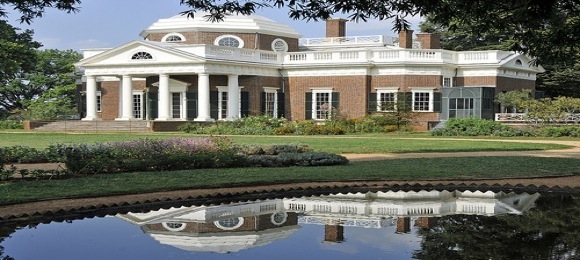 Monticello, Virginia © Tony The Misfit
Monticello and its surrounding area constituted the main area of the estate since Thomas Jefferson's grounds had a number of partitions based on natural barriers. The 5,000 acres are currently filled with a variety of exotic plant life among a number of separate farms in area. A Renaissance man, the former president, was responsible for the design of the majestic property including the thirty-three-room house. Its décor remains consist with Jefferson's taste though much of the original content has been sold. In a difficult state of affairs, Jefferson's daughter Martha sold the original contents of the estate in order to pay of her father's massive debt after his death. The primary author of the Declaration of Independence and founder of the University of Virginia managed to amass approximately $107,000 worth of debt.
Adults can expect to pay from $15 to $20, depending on time of year, for entrance to the estate. The fee is $8 for children except those under 6 who enter free of charge. Hours are based on season: March to October runs from 8am to 5pm
with November to February open from 9am to 4:30 pm. A virtual tour is available on the Monticello website.
4. Theodore Roosevelt's Sagamore Hill (Oyster Bay, New York)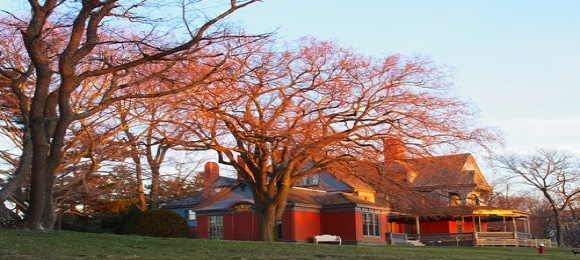 Sagamore Hill, Oyster Bay, NY © Bemep
Sagamore Hill is a pleasant estate to visit. The former home of Theodore Roosevelt is filled with the various gifts he received from ambassadors. It also contains the collection of hunting trophies Roosevelt collected over the years. Visitors are required to take a guided tour in order to see the twenty-three rooms of the house. The guides are friendly and well informed.
In addition to the house, visitors have the option to trek along the Sagamore Hill Nature Trail. A brisk walk through a wooded area will drop travelers off at a beachfront area. The rest of the neighborhood has a number of beautiful homes that are worth viewing by foot, bicycle, or car.
Sagamore Hill is open everyday expect major holidays. Tours of the house are offered from 10am to 4pm. Entrance for adults is $5 with children under 15 entering gratis.
5. Franklin D. Roosevelt's Springwood (Hyde Park, New York)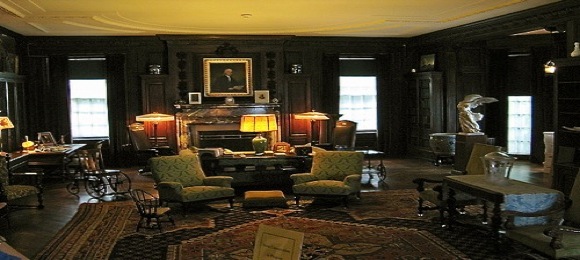 Springwood, Hyde Park, NY © Randy Yohc
Springwood was the lifelong home and passion of Franklin D. Roosevelt. Roosevelt regularly returned to his house, in the Hudson River Valley, during his unprecedented four terms as president of the United States. The beautiful area has lots of restaurants, historic sites, and hiking trails nearby. Additionally, Roosevelt's cottage retreat is on the grounds. He was directly involved with designing it to match the local Dutch colonial décor. Be sure to visit the New Dealer's Presidential Library and Museum too.
Springwood is open seven days a week except for Thanksgiving, Christmas, and New Years Day. Visitors are welcomed from 9:00am to 5:00pm. While the grounds are free to wander, tours of the home are limited. Call ahead.
6. John F. Kennedy's Brookline (Massachusetts)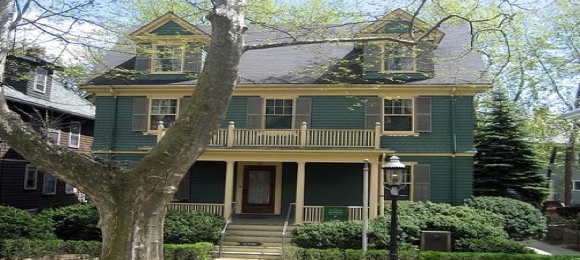 Brookline, Massachusetts © Wally G
Brookline was the birthplace and boyhood home of John F. Kennedy. His family bought it for a second time in the Sixties after several owners occupied it. Mrs. Kennedy restored the home to its earlier décor including the personal furnishing, photographs, and décor of the Kennedy family. His mother also added several of JFK's childhood items such as his bassinette and the piano on which he took lessons. The neighborhood, including Beals Street, is pleasant to wander around.
The home has two options for visitors: ranger-led tours or self-guided audio tours. Kennedy's National Historic Site is currently closed for the winter season, but will re-open for in a couple of months. Adults are expected to pay $3 for admission while children 17 years of age and under enter free.
Presidents on the mind? Read about eight presidential inauguration locations to visit.
___________________________________________________________________________________


Gennaro Salamone is the founder and editor of Enduring Wanderlust. Feel free to contact him with questions, comments, or inquiries with reference to contributing an article or photograph for publication.
Receive our free content by e-mail directly to your inbox or through an RSS reader.