Travel Jobs: Projection Chart
From the 2008-2018 period, the U.S. Bureau of Labor Statistics projects that there will be a significant increase in certain travel-related occupations with the biggest gains going to hotel, motel, and resort desk clerk positions. Tour guides, flight attendants, reservation ticket agents, and lodging managers will also have more openings. The only group that is expected to lose jobs is travel agents.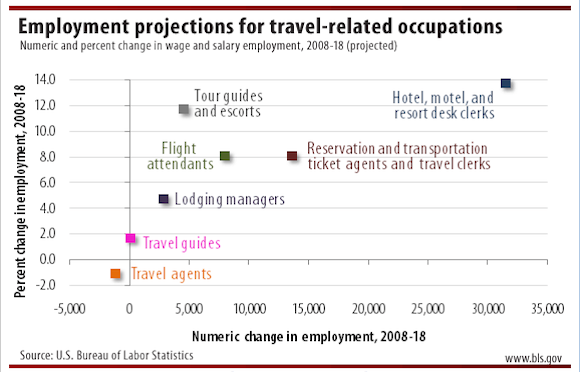 Travel jobs projected (Chart)
It's not surprising that there will be increases in many of the travel-related jobs. Travel to the United States is projected to increase over the 2008-2018 period and that will require more personnel. Much of the loss in the travel agent field can be attributed to the use of Internet websites to book airlines and hotels.
An industry negative is that the two groups that receive the lowest wages are also the occupations that are expected to grow the most by percentage: hotel, motel, and resort desk clerks plus tour guides.
View a map and list of the most visited countries in the world.
___________________________________________________________________________________


Gennaro Salamone is the founder and editor of Enduring Wanderlust. Feel free to contact him with questions, comments, or inquiries with reference to contributing an article or photograph for publication.
Receive our free content by e-mail directly to your inbox or through an RSS reader.