The National Trust for Historic Preservation designates a dozen distinctive places each year for Americans or foreigners to visit. These cities and towns offer an authentic visitor experience with emphasis placed on locations that meet the following criteria: dynamic downtowns, cultural diversity, attractive architecture, cultural landscapes and a strong commitment to historic preservation, sustainability and revitalization.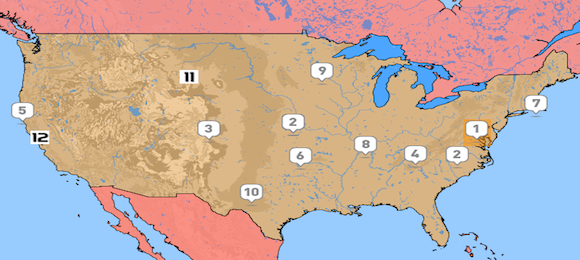 America's Distinctive Destinations [Map © Enduring Wanderlust]
These 12 cities and towns (in alphabetical order by city) are:
1. Alexandria, Virginia
2. Chapel Hill, North Carolina
3. Colorado Springs, Colorado
4. Dandridge, Tennessee
5. Eureka, California
6. Muskogee, Oklahoma
7. New Bedford, Massachusetts
8. Paducah, Kentucky*
9. Saint Paul, Minnesota
10. San Angelo, Texas
11. Sheridan, Wyoming
12. Sonoma, California
*Paducah, Kentucky was voted Fan Favorite Distinctive Destinations.
This is the perfect list for people looking to avoid American vacation spots that are overrun by tourists. Many are small towns with a lot to offer including historic downtowns and friendly locals. While there are a handful of places that might be on your list to visit already, most will be new places to consider for your next trip. Plus at least a couple of spots are likely close to where any American lives since the map above reveals that the locations are spread throughout the country.
Read about the ten most visited countries in the world.
___________________________________________________________________________________


Gennaro Salamone is the founder and editor of Enduring Wanderlust. Feel free to contact him with questions, comments, or inquiries with reference to contributing an article or photograph for publication.
Receive our free content by e-mail directly to your inbox or through an RSS reader.