What are the most popular travel magazines? The most objective way to answer to this question is to consider the overall circulation. According to data from the Audit Bureau of Circulations (ABC) and BurrellesLuce, the top 13 list includes three National Geographic publications, three AAA magazines, and a variety of others listed below.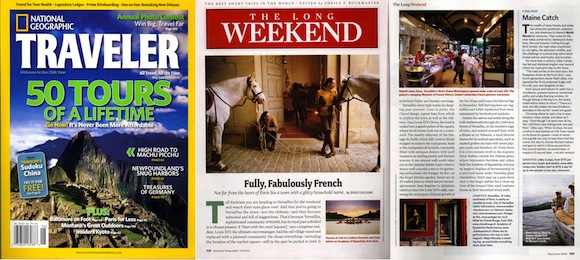 Travel Magazine © Wally G.
Travel Magazines With the Highest Circulation (United States)
1. National Geographic 4,493,024
2. Via Magazine (AAA) 2,740,435
3. AAA Living 2,469,830
4. AAA Going Places 2,404,121
5. Sunset 1,259,750
6. Where Magazine 1,191,152
7. Travel + Leisure 996,217
8. Midwest Living 989,424
9. National Geographic International 883,357
10. Condé Nast Traveler 810,713
11. National Geographic Traveler 742,575
12. Arthur Frommer's Budget Travel 680,097
13. Coastal Living 671,023
It's surprising to see so many AAA publications* on the list, but note that these often come with a membership to the American Automobile Association based on region. It's also interesting that more than half the list focus on a specific area of the country rather than being national or international. Coastal Living and Midwest Living are two examples of that.
*An editorial decision was made to take two other magazines from AAA off the Audit Bureau of Circulations list because they're actually closer to books (AAA Tourbooks and AAA Campbooks) in our view.
Find out the answer to: what are the most visited countries in the world?

___________________________________________________________________________________


Gennaro Salamone is the founder and editor of Enduring Wanderlust. Feel free to contact him with questions, comments, or inquiries with reference to contributing an article or photograph for publication.
Receive our free content by e-mail directly to your inbox or through an RSS reader.