Japan has had a tough time of it recently, to say the least. When it was struck in March by a powerful earthquake and tsunami, and in the following weeks had a potential nuclear catastrophe to contend with as well, things looked desperate. But the Japanese people have handled the disaster with exemplary stoicism, and the good news is that tourism is now picking up again. In no particular order, here are five great reasons to go on holiday to Japan according to Rachel McCombie:
The food
Japan may be famous for its sushi, but that's by no means the only dish you'll have the chance to try on your trip. Whether you choose to play safe with a delicious bowl of noodles, or brave something more outlandish such as the famed puffer fish, you're sure to come away from Japan with a host of new favorite foods. You're also likely to notice the very Japanese custom of restaurants displaying plastic food in their windows to show you what's on offer – a surprisingly convenient way of ordering food if you don't speak Japanese!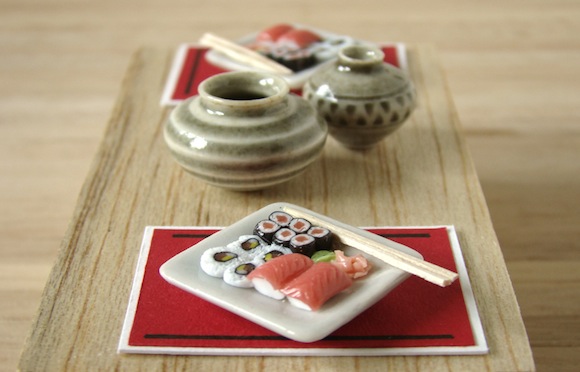 Miniature Sushi © Stephanie Kilgast
The culture
Japan's captivating culture makes for an enriching experience even for the casual tourist, but those with the curiosity to delve deeper will be even more greatly rewarded. Japan has a highly refined and ceremonious culture, and is perhaps most famous for its tea ceremony and enigmatic Geisha. It also has a wealth of stunning temples, with 2,000 in Kyoto alone, while tranquil gardens with meticulously laid out vegetation and paths provide welcome respite from the frenetic pace of the major cities. You'll even be able to see fascinating and well-preserved castles and samurai quarters, which have survived the centuries to see huge modern cities grow up around them.
The cherry blossom
Early April sees the arrival of the cherry blossom or sakura season in Japan, a glorious natural spectacle and the subject of much celebration in Japanese culture. This wonderful event makes April arguably the best time of year to visit Japan, as the clouds of pink blossom make the temples and gardens even more photogenic than usual. You'll see people having picnics under the cherry trees to celebrate the blossom, creating a lively and jubilant atmosphere that will be the icing on the cake for your visit to Japan.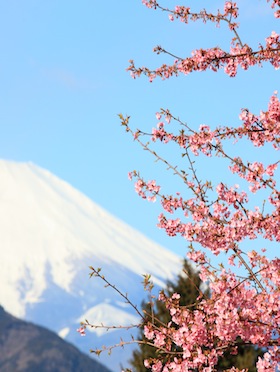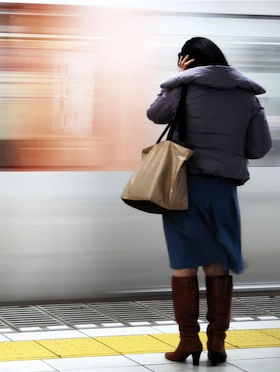 Mt. Fuji and sakura © Tanaka Juuyoh and Woman waiting for the train © John B. Mueller
The trains
Public transport might sound like an odd reason to visit a country, but Japan is famous for its trains. With an efficiency that puts other railways to shame, the Japanese rail network is highly refined and punctual to the second. Its pristine bullet trains – known in Japanese as Shinkansen – are capable of speeds in excess of 180 miles per hour, making travel between Japan's major cities both easily manageable and comfortable. A recommended journey for your Japan holiday is a trip from Tokyo to Kyoto by bullet train, a stretch of which offers stunning close-up views of Japan's iconic volcano, the snow-capped Mount Fuji (providing it's not too cloudy!).
The landscapes and cityscapes
For many people, the image that immediately springs to mind in conjunction with Japan is skyscrapers, bright neon lights and cutting edge technology. In the bustling capital city of Tokyo this is certainly true, but there's a lot more to Japan than its urban landscapes. The stunning spectacle of Mount Fuji has already been mentioned, as have Japan's many temples and gardens, but further afield the scenery turns to magnificent rugged mountains – an ideal destination all year round, whether for summer hiking or winter skiing.
___________________________________________________________________________________


Rachel McCombie is better known for her Rachel's Rome Writings blog, but has traveled to and written about other countries as well. She went on a trip to Japan a couple of years ago and has been an avid enthusiast of Japanese culture ever since.
Receive our free content by e-mail directly to your inbox or through an RSS reader.