Faghat seyr mikonam. For the adventurous eater venturing into Kabul's street food scene, these three Dari words, which roughly translates to "I'm just looking," are key. To stroll by Kabul's food stalls is to run a gauntlet of aggressive vendors, stepping into your path and thrusting samples at you. However, the reward for wading into this chaotic scene is to foray into the varied cuisine of Afghanistan.
Follow Scott Ruddick's tour of the Kabul food stalls:
To the outside world, Kabul has become synonymous with the strife and conflict afflicting the whole of Afghanistan. Yet beyond the headlines, the capital city is a vibrant community of three million people with a thriving street food scene.
The influx of foreigners and money since the fall of the Taliban has gradually transformed the Kabul restaurant landscape. Enterprising street chefs, tabang wallahs in the local parlance, serve up a variety of local cuisine.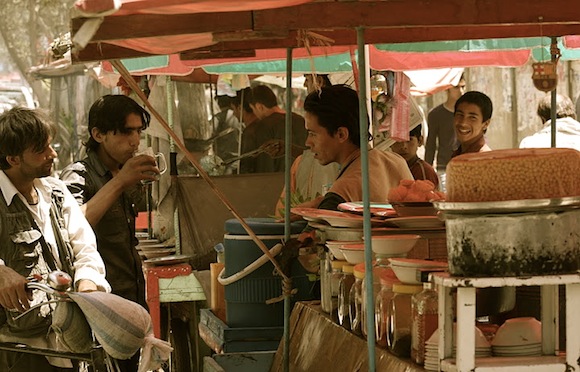 Kabul Food Stall © Scott Ruddick
Kabul's food stalls are unassuming. They are often no more than a tin roof held up by a rough-hewn wood timber frame covering a cooking area. Electrical connections to run refrigeration are nonexistent and supplies are kept in coolers, lugged back and forth from the homes of the stall staff every day.
The best stalls are found around Shahr-e Naw Park, a large park in central Kabul that is popular with the locals for pick-up soccer matches and Friday bird fights. The stalls are clustered together along the wide sidewalks. In keeping with the business model of successful street food vendors everywhere, each stall will specialize in one or two food types, and build their business by offering a consistent, quality product at a reasonable price.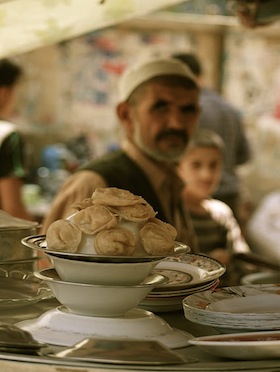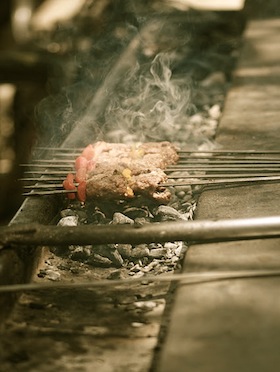 Mantu vendor and Kabob © Scott Ruddick
Each dish costs between 50 and 100 Afghanis ($1.25 and $2.50 USD). Busy times are lunch, the main meal in Afghanistan, when office workers and laborers are on the prowl for a cheap meal, and again in late afternoon as workers head home, and stop to pick up takeout for the evening meal.
Kabul's street food stalls are both a cheaper alternative to more expensive sit-down restaurants and a respite from the heavy fare of traditional Afghan household cooking. A typical Afghan meal is centered on rice. Qabeli Palau or basmati rice with chopped carrots and raisins and pieces of meat is often the centerpiece, served with flat bread. While a well-done palau is a wonderful meal, the sheer ubiquitousness of it drives Afghanis and ex pats when they have been in country long enough to seek out different fare. The tabang wallahs are only too pleased to fill this void in the Afghan diet.
Kabob is the preferred takeout food for Kabul's denizens meaning open-air kabob shops are to be found in every part of Kabul. Kabobs consist of lightly seasoned mutton, lamb, beef or chicken skewered on rough iron spikes then broiled over glowing charcoal. The kabob meat is wrapped in naan, a leavened bread that is baked by being slapped against the inner wall of a clay oven, which is in turn wrapped in old newspaper. The experienced kabob eater knows that naan serves as both a plate and an accompaniment. The rough side of the bread is always placed facing up with the meat piled on top of it. Chunks of the bread are ripped off and used to scoop up the meat. A typical mid-sized kabob stall will serve 110 pounds of meat a week.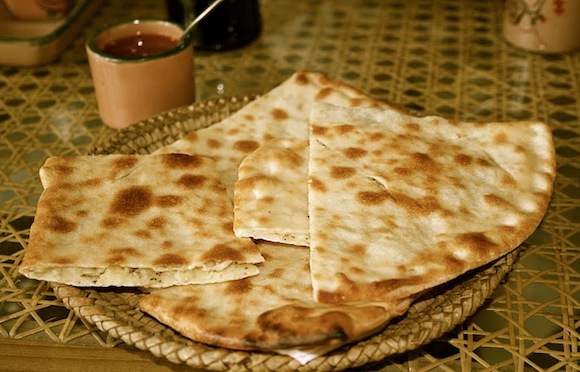 Boloni © Scott Ruddick
Other tabang wallahs serve up steaming plates of delicately spiced raviolis. Indigenous to northern Afghanistan, mantu (stuffed with minced meat) and ashok (filled with leeks) are steamed over large open-air pots and served with a tangy yogurt sauce.
Boloni or stuffed pancakes filled with either shaved potato and onion (sabzi) or squash (kadu) are deep-fried in bubbling cauldrons of oil.
The carb-heavy Afghan burger, a recent Kabul concoction, is a favorite with the city's teenage boys. It is common to see groups of them gathered on street corners, devouring the local meal of a spiced ground beef patty with a smattering of onions, tomato, and lettuce that is wrapped in a pita-like bread along with a side of French fries jammed into the sides.
Shor nakhod or stewed chickpeas are served on large plates with an accompanying mint sauce, which serves as either an accompaniment or a stand-alone meal.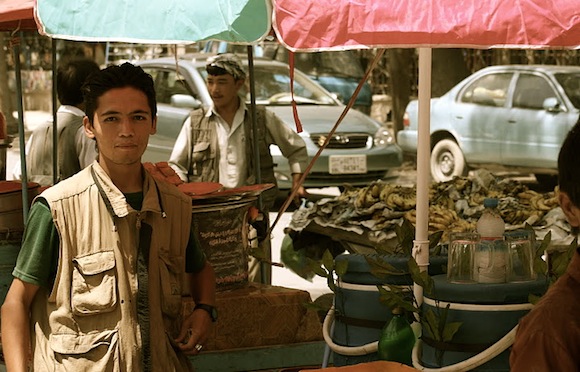 Doogh stall © Scott Ruddick
Whatever your choice of entrée, wash it down with doogh, which is a carbonated yogurt drink seasoned with salt and mint.
A typical Afghan food stall will open late morning, and close around dusk Sunday to Thursday. This schedule is reversed during the religious month of Ramadan, when Muslims fast from dawn to dusk. During this 30-day period, the stalls will open for iftar, the fast-breaking meal that takes place at sunset, and close at around sunrise, when the last meal before the dawn-induced fast begins.
___________________________________________________________________________________


Scott Ruddick is an international development specialist and a freelance writer who focuses on the developing world. Learn more about Scott on his website.
Receive our free content by e-mail directly to your inbox or through an RSS reader.