Picnics are a great way to have an authentic travel experience. It has the added benefit of saving the traveler valuable cash resources. In order to maximize the benefits of your travel picnic, we've created four steps to the perfect outing.
1. Location
"To leave a place is to die a little." ~French Proverb
Select a comfortable spot that reflects the interests of the participants. It's often best to select a place that communes with nature. Areas within reach of rivers, lakes, or parks are ideal. This approach is feasible in the urban jungle too. For instance, the banks of the Seine River (below) in Paris have popular walkways to spend an afternoon. The Great Lawn (map) of Central Park in New York City represents another great spot. The latter has Belvedere Castle within its vicinity.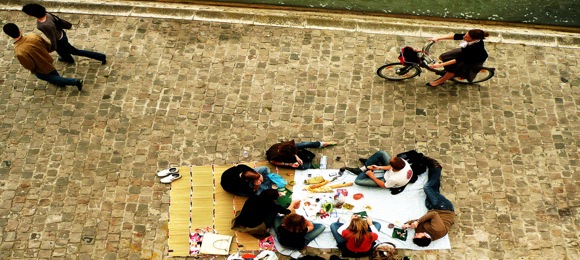 Picnic, Seine River, Paris © Malias
2. Food Selection
"Tell me what you eat, I'll tell you who you are" ~Anthelme Brillat-Savarin
Picnicking is an opening to have an authentic meal. It's easy to collect a variety of foodstuffs, from local markets, that residents eat in their daily lives. A sojourn to an Italian city or village, for example, would allow for a picnic menu that consists of fresh mozzarella, sliced tomatoes, mortadella with breadsticks, chunks of Parmigiano-Reggiano, prosciutto on wedges of honeydew, and a basket filled with figs and grapes. Add a glass of local wine or fresh tomato juice with lemon and black pepper.
Having trouble with coming up with ideas? A great resource for selecting new picnic foods is The Minimalist: 101 20-Minute Dishes for Inspired Picnics.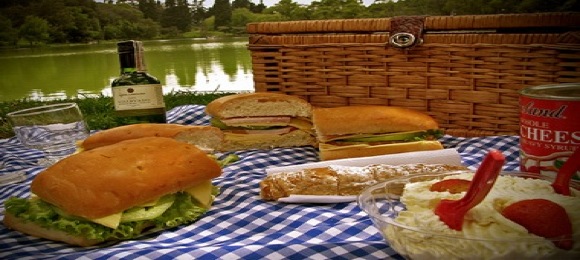 Picnic Meal © Nanda
3. Guests
"Strangers are just friends waiting to happen." ~Rod McKuen
Consider inviting a couple of locals or fellow travelers to your gathering. There is no better way to understand a location that to spend time with those who know it best. It will also provide an opportunity to learn several new phrases in their native language. If you haven't met any residents, contemplate arranging your get-together near a smiling group of locals. Don't be surprised if an invitation to join them is in the offing. This is especially helpful for solo travelers.
4. Conversation Topics
"Friends are those rare people who ask how you are then wait for an answer" ~Unknown
During the meal, it's best to keep to light topics. Allow each guest to select a topic for discussion over the course of the afternoon. This makes sure that everyone has a chance to participate in the conversation. It's equally helpful to listen to your fellow picnickers and provide feedback to their musings.
Stomach churning? Read about the best pizza in New York City.
___________________________________________________________________________________


Gennaro Salamone is the founder and editor of Enduring Wanderlust. Feel free to contact him with questions, comments, or inquiries with reference to contributing a travel article or photograph for publication.
Receive our free content by e-mail directly to your inbox or through an RSS reader.