Named after its founder, Jacques Torres, who grew up in a small town in the southern region of Provence, this chocolate shop tops the list. With four locations in the city, Jacques Torres manages to create chocolate that will triumph over your taste buds. For the ultimate experience, visit their Hudson Street location to witness chocolate being made from fresh beans. The entire place is enveloped by glass to allow patrons to watch the factory do its magic.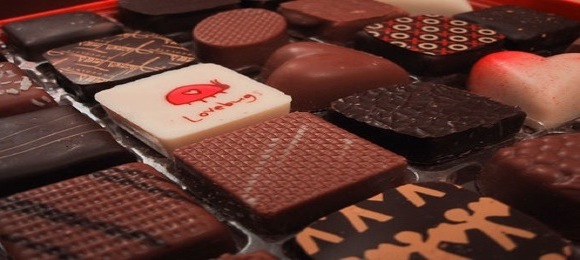 Jacques Torres, New York City © J Hritz
Martine's Chocolates creates a variety of fresh cream chocolates and truffles. Their delicacies are handmade right in front of their customers with the finest ingredients including Belgian Callebaut couverture chocolate, French butter, fresh American cream. Martine's is, perhaps, the best place in the city to watch the chocolate-making process. Be sure to take out an order of your favorites in their signature pink boxes for a friend.
3. MarieBelle
MarieBelle doesn't manufacture chocolate. They create works of art. The most aesthically pleasing on the list, MarieBelle's chocolates will satisfy all of your senses. Their traditional blue boxes are the perfect gift for a loved one. Each box is filled with a sampling of their finest work. MarieBelle also has entertainment on Wednesday nights. Visitors will enjoy Jazz In The Chocolate Factory at their Madison Avenue location.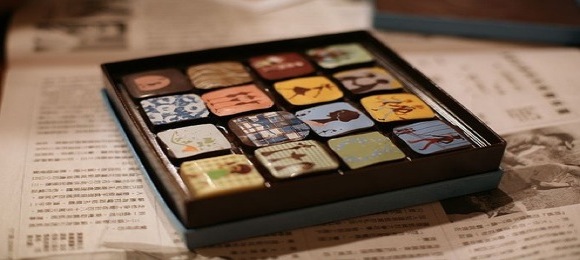 MarieBelle, New York City © Clemson
Founded by Kee Ling Tong, Kee's Chocolates makes handmade bon-bons and hand-rolled confections. Their flavors have an international taste with imported yuzu from Japan, sea salt from France, and saffron from Spain. This is the ideal stop for individuals who prefer a small SoHo shop over the glitz of La Maison or elegance of MarieBelle. Be sure to try the ultra-creamy truffles.
La Maison du Chocolat built its reputation as one of the preeminent chocolatiers in France. It has extended that legacy to New York City. The most expensive chocolate on the list, La Maison creates mouthwatering ganaches, pralinés, and a variety of fruited chocolates. Do note that it's closer to an ultra-high end boutique than a quaint shop.
Mondel Homemade Chocolates has been a neighborhood favorite, near Columbia University, for over sixty years. Mondel's was also the preferred shop of four-time Academy Award winner Katharine Hepburn. It has a wide range of chocolates ranging from truffles and creams to cordials and break-up chocolate. Mondel also has a tasty selection of sugar-free chocolate.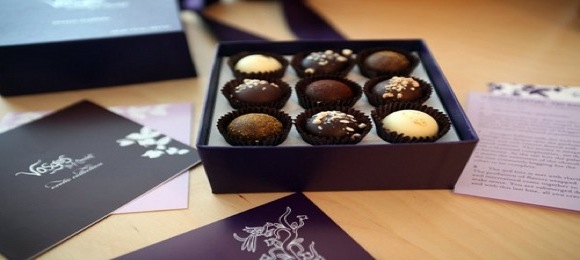 Vosges Chocolates, New York City © The Pink Peppercorn
Vosges turns out the best truffles in New York City. Created by Chicago's Katrina Markoff, Vosges' truffles will leave you feeling satiated. Visitors will try a range of exotic flavors including curry, Thai pandan leaves, and wasabi in several of the chocolates. If you're not living in Chicago or New York City, it's possible to order these unique sweets over the Internet.
Evelyn's Chocolates has been satisfying customers for decades in the Financial District. Created by Evelyn Robb, this shop has hand-dipped chocolates and delectable confections. Understated in comparison to its competition for New York's best, Evelyn's maintains a homey feel. It will feel just like mom's kitchen. Try the homemade Chunkys.
In a New York state of mind? Read about the best pizza in NYC or free things to do in NYC.
___________________________________________________________________________________


Gennaro Salamone is the founder and editor of Enduring Wanderlust. Feel free to contact him with questions, comments, or inquiries with reference to contributing an article or photograph for publication.
Receive our free content by e-mail directly to your inbox or through an RSS reader.