One of the best aspects of travel is trying the various local foods from each community. A great way to find the most authentic eats and restaurants is to ask local experts. Enduring Wanderlust recently asked a group of its readers to share their local knowledge, resulting in an inventory of must-eat foods:
Nadia Ballas-Ruta of Happy Lotus gives an insider view of Philadelphia:
For anyone who happens to be in Philly, the best place for soft pretzels is at the Reading Terminal Market. The market is located in an old train terminal and has all kinds of foods. The big draw is that the Amish from Lancaster, PA come a few days a week and sell their homemade goods. Their pretzels are the best in the city. Try their apple dumplings too.
Philly cheesesteak sandwich is a local favorite too. Every one knows of Geno's Steaks since they are featured in almost every movie that takes place in Philly. Geno's is a basic stand in the middle of South Philly, but also an institution. If you are a vegetarian, head to Govinda's Cafe for a vegetarian version of this local favorite. Govinda's is a simple place with awesome food located on South Street.
Now on to my favorite…fudge. The place for best fudge is The Original Fudge Kitchen. They have locations throughout the southern Jersey Shore. It's a family run business and each shop is full of all kinds of sweet treats. The good news is that you can order their yummy fudge online from anywhere. It is truly the best fudge in the world. It is heaven.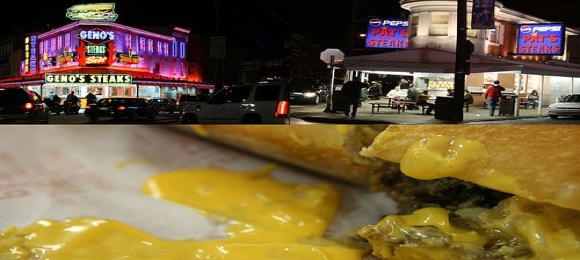 Philly Cheesesteaks © Marvin Kuo
Rosalind Cummings-Yeates of Farsighted Fly Girl gives her take on Chicago's local eats:
For Chicago visitors, a taste of Chicago style pizza is a must. Noted for its thick cust and gut-busting piles of cheese and toppings, Chicago style pizza refects the city's brash attitude and heavy midwestern palate. There are hundreds of eateries in Chicago that claim the best Chicago -style pizza, but my recommendations for tourists are:
Pizzeria Due, an iconic Chicago restaurant credited with being one of the first restaurants serving Chicago style, its decor is basic and it's always crowded because the pizza is authentic. Pizzeria Due is the second restaurant that was opened because the popular Uno was constantly over-crowded. Unos has expanded into a restaurant group across the U.S. but Due is still one-of a-kind.
Giordano's is another famous eatery that's favored by locals. There are over a half dozen city-wide locations but the one at 730 N. Rush offers lots of energy and people watching, in addition to excellent stuffed pizza.
Chicago Pizza and Oven Grinder Co. Less well known but equally memorable, Ovengrinder creates a signature pizza pot pie that's not to be missed. Located in a charming brownstone in Lincoln Park, this restaurant, like its neighborhood, supplies an understated stylish vibe.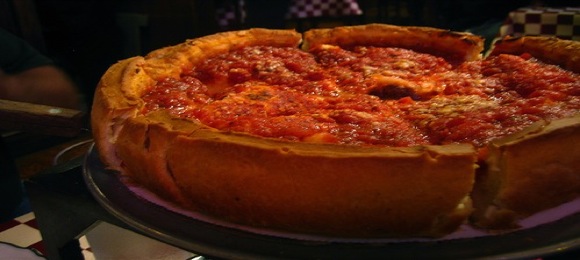 Chicago deep-dish pizza © Adactio
J.D. Meier of Sources of Insight provides his view on Seattle's best eats:
When you go to Seattle, you need to "meet the man." Picture this. It's a warm, sunny day. You park your car and add yourself to a long line of people wrapped around an old garage. Somewhere in the distance, you hear a distinctive voice shout, "you met the man?" You turn to see a man with an apron and a pot. It's Gene. You're at Dixie's BBQ.
"The man" is an insanely hot sauce that's dangerous to the touch. Seriously. In fact, if it's your first time, Gene warns you to just dab your toothpick and touch it to your tongue. I've seen many a grown man cry, while trying to prove they're "man enough."
It's a simple menu, from sandwiches to ribs. Whether you go pork or beef, it's some of the most succulent, melt-in-your-mouth meat you've ever had. Your mouth waters whenever you think of the tang of the sweet BBQ sauce. If you're daring enough to brave the man, you know you'll pay for it both now and later. It's called "the man" for a reason. It's not bark, it's all bite.
On your first trip to Dixie's, Gene will take you over to his map of the world. He'll give you a pin and tell you to find yourself on the map. The map is always full with people from all over the world. It's just a little garage, but it's just the kind of place memories are made from.
Nik Tjhin of Unearthing Asia provides a tasty Indonesian treat: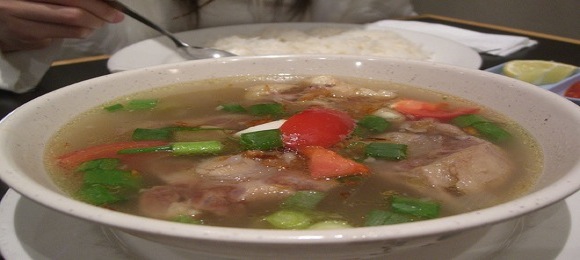 Oxtail Soup © Avixyz
One of my favorite local foods is Indonesian Sop Buntut, which translates to Oxtail Soup. A little online research shows that the Oxtail Soup is a popular dish throughout the world, with each country adding their own unique twist and tweaks. If you eat this in Jakarta, however, what you will get is a tasty clear broth with tender oxtail, chunks of potatoes, carrot, tomatoes, and celery, with aromatic spices mixed in and topped with crispy fried shallots.
For fine diners and the luxurious high-rollers, Hotel Borobudur in Jakarta is famed for its delicious Oxtail Soup. They added their own little twist in which they actually serve the oxtail meat separate from the soup, and stir-fried it before hand, calling it Sop Buntut Goreng (Fried Oxtail Soup). For the rest of us normal people, try the Oxtail Soup at Puri 88. Their servings are large, tasty, and easy on the pocket. A meal for two will cost you around Rp70,000 which at current rate translates to roughly US$6.50.
Alik Levin of Practice This gives his take on the scene in Israel:
Israel is unique in that people come here from all over the world bringing a variety of food traditions. Influences include Poland, Germany, Argentina, Morocco, Yemen, Russia, Iraq, and many more. I can assure you that the food here is the tastiest, healthiest, and cheapest I've eaten in my life. That includes meals in Russia, Poland, France, Spain, South Africa, US, Hong Kong, Czech Republic, UK, and Turkey. For me, the most authentic is local street food like Falafel and Shawarma. Stop at any small shop and indulge in those two foods.
Sire of Scenic Adelaide gives his take on a local Aussie spot worth checking out:
The River Cafe is part of the Red Ochre Restaurant, which has stunning views. I must admit that I have never tried 'contemporary Australian cuisine' and this restaurant is touted to have some of the most innovative Australian food with a native influence. The menu of local eats and the beautiful location makes it an appealing spot for a visit. On the other hand, The River Cafe has replaced one of my former favorites, Cafe Lago. It will be interesting to see how it measures up. Either way, these restaurants are perfect spots for travelers dropping over to Adelaide.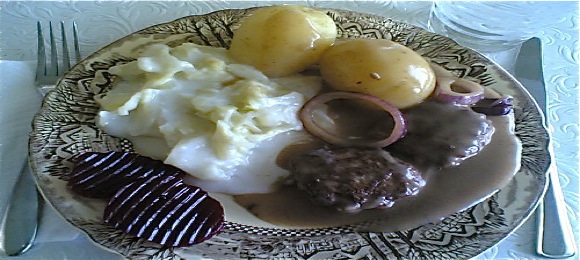 Norwegian Meat Cakes © RennyBA
RennyBA's of Terrella gives a few of his favorite Norwegian classics:
The Norwegian national dish is "Fårikål" or Lamb in cabbage. To prepare it: cut pieces of cabbage then layer lamb and cabbage on top of each other. Sprinkle in some whole black pepper too. Another favorite is kjøttkaker or meat cakes (see photo above). The cakes are usually made from ground beef. Kjøttkaker is traditionally served with boiled potatoes, gravy, and lingonberry. For travelers who prefer fish, rainbow trout is the local dish to look for in Norway.
Read about the most authentic pizza in New York City.
___________________________________________________________________________________


Gennaro Salamone is the founder and editor of Enduring Wanderlust. Feel free to contact him with questions, comments, or inquiries with reference to contributing a travel article or photograph for publication.
Receive our free content by e-mail directly to your inbox or through an RSS reader.