Chiang Mai, Thailand is the answer. Where to ride an elephant, how to ride an elephant, and where to hug and kiss a baby elephant are the musings. The voyage began with a serene 8-mile bike ride from the rustic Lisu Lodge to the elephant camp. Despite the excitement surrounding the elephant riding, the natural beauty of the Chiang Mai countryside still manages to capture your attention.
On arrival, several gentle giants standing near the river met our group of travel writers. Among the elephants was a pregnant female who managed to carry two of us along the mountainous jungle scenery down the river. The secret to riding this particular elephant was to ensure that she was fed plenty of bananas. Be sure to put aside enough bananas for the entire trip, as her trunk will be jumping back to collect a reward every few steps.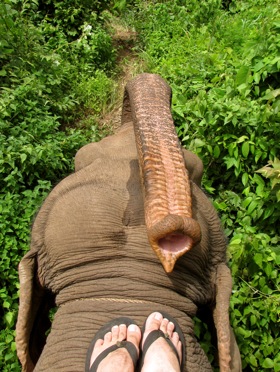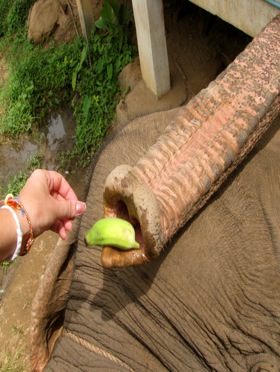 Elephant reaching for Gennaro's feet + Angela Dollar feeding an elephant © Gennaro Salamone
Behind the pregnant giant was a 3-year old baby elephant that followed along for the journey sans passenger. He spent most of the trip using his trunk to throw dirt over his shoulder ensuring protection against the sun and insects. While the ride along the river was wonderful, the highlight of the day was bonding with the baby elephant at the end. I walked over to the receptive animal and proceeded to hug and kiss him. It's not every day that you can connect with one of the largest land mammals.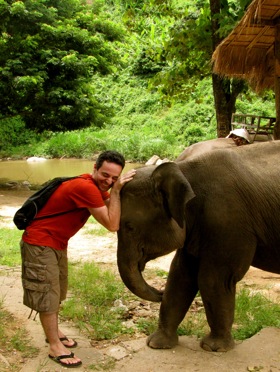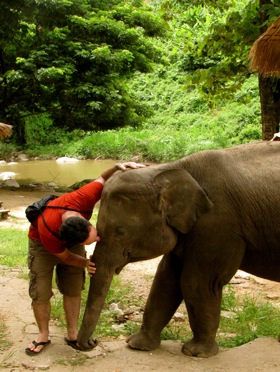 Hugging and kissing a baby elephant © Gennaro Salamone
There are several options that allow for a similar experience. Elephant Nature Park is one of the better choices with over thirty rescued elephants from infants to old-timers. They have everything from day trips to three-week long volunteer stays.
This trip to Thailand was courtesy of the Tourism Authority of Thailand. The content and opinions in the article are those of the author.
___________________________________________________________________________________


Gennaro Salamone is the founder and editor of Enduring Wanderlust. Feel free to contact him with questions, comments, or inquiries with reference to contributing an article or photograph for publication.
Receive our free content by e-mail directly to your inbox or through an RSS reader.