Editor's Note: This post was written by guest contributor Katie Greenaway.
The center of Florence, Italy has countless ristoranti and trattorie. Which do you choose? The waiters in Piazza Repubblica and Piazza Signoria grab your attention by conversing with you as you skim over the menu. They devise a plan to convince you to eat at their ristorante and then lure you inside. Most give in because of the exhaustion tourists have in the heat of summer and feel they should stay in familiar areas. But what about all the places you are missing outside the touristic center, on the Oltrarno, for example? Walking over the Ponte Vecchio to the other side brings a breath of fresh new smells and vistas. The alleyways hide a lot from the cautious traveler. Walk down one and see what you find.
Quattro Leoni is located on Piazza della Passera. It meets at a crossroads. The ristorante is set on the corner of the piazza that brings the bustle of the city to a gentle whisper. Inside there are about a dozen tables that are full on any given night. In the spring and summer, enjoy lunch outside under the umbrellas. People-watch or bask in the calm and simplicity of the piazza. Reservations are a must on the weekends. Notice the walls, they contain photos of many celebrities that frequent this secluded locale. Yes, even Sting eats here! This spot is very popular because few tourists stroll into Piazza della Passera. This place is usually run by the locals. Be aware when waiting to be seated that there might be some regulars that pop ahead of you. No worries as they will seat you, the staff is very welcoming and kind.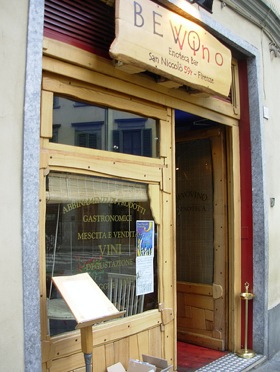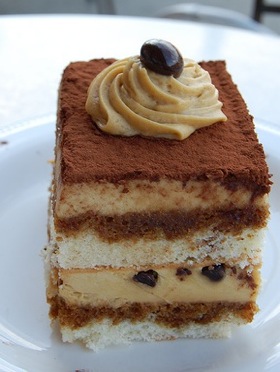 Bevo Vino (left) © Rob React and Tiramisu (right) © Koyochi
Bevo Vino welcomes each patron with warmth and charm. When you enter Bevo Vino you are arriving at an old friend's home. Small secluded table areas with an opportunity to sit alone and enjoy the atmosphere around you. The menu is small with recommendations galore from the wait staff. Seasonal dishes are featured as well as typical desserts like tiramisu, which is a must when in Florence. A few tables are scattered throughout giving you a feel of what it is like to be a local. Smell the fresh tomatoes as they pass by on a plate of bruschetta. They come to the table with kindness and smiles. Prego, cosa volete? (My pleasure, what would you like?) I don't know any other place in Florence as bona fide and personable. It's so fresh and genuine that it's worth a stop off the beaten path.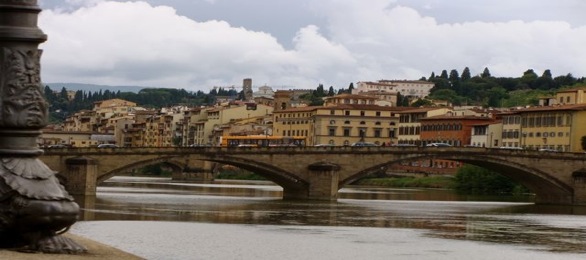 Cross Over To Oltrarno © Katie Greenaway
Osteria Antica Mescita San Niccolo is a family run osteria that gives each patron a sense of home. Tables are booths and you could end up sitting next to people you don't know. There is a lower level with tables arranged like in a cantina; all you need is a barrel of wine. A cute little bar sits in the left corner where you pay and where the waitress picks up your dishes. All guests leave here happy. As some osterias are rather pricey, this one is worth every penny. Each day their menu consists of specialties made from the heart and soul. Both located in San Niccolo, you will notice as night falls how the locals flock into crossroads between Bevo Vino and Osteria Antica Mescita San Niccolo. Immerse yourselves with the sounds of authentic Florence. Experience small cars honking as they squeeze through people-crowded streets, the chatter of Italian banter, and the clinging of glasses and dishes which allows us to realize we aren't dreaming.
___________________________________________________________________________________


Katie Greenaway fell in love with Italy from her first visit in 2002. She now calls it home, writing and capturing the culture of the enchanting city of Florence. She is always exploring the ancient cobblestones of Florence, one step at a time. Follow her blog: Olio di Oliva e Sogni di Vino and Twitter.
Receive our free content by e-mail directly to your inbox or through an RSS reader.