The Irish have contributed quite a bit to civilization. One way to celebrate their achievements is to visit an Irish-themed pub. These watering holes are scattered throughout the world. Enduring Wanderlust has put together nine of the best Irish-themed pubs in nine of the best cities.
1. McSorley's Old Ale House (New York City)
Established seven years before the American Civil War, McSorley's Old Ale House prides itself on being the oldest continually-operated bar in New York City. McSorley's even managed to continue serving beer during Prohibition. It, remarkably, counts Abraham Lincoln among its former patrons. One of the fascinating aspects of visiting the Ale House is seeing the wishbones above the bar (photo below), which were left by men leaving for World War I. It has been said that the remaining bones are from soldiers who never returned.
For women, it will be a surreal experience as McSorley's only started allowing women to enter since the Supreme Court forced their hand in 1970. Yes, 1970. The Ale House built its first ladies room in 1986. Men and women alike must be ready to drink either McSorley's Light or McSorley's Dark, as they are the only options.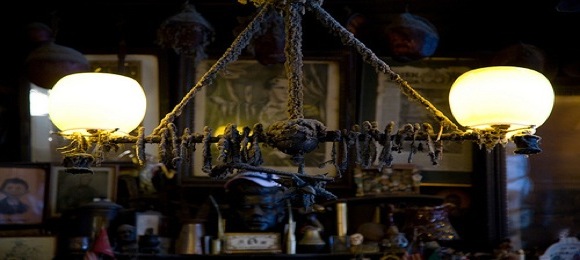 McSorley's, New York City © Laughing Squid
2. O'Neill's Islington (London)
O'Neill's is an Irish bar with a great atmosphere. It provides for a combination of beer starring Guinness and Smithwick's Irish Red Ale and Irish fare that will have any visitor feeling the luck of the Irish. Along with serving delectable Irish breakfast all day, O'Neill's has a bunch of unique choices including Irish stew crock-pot, vegetarian sausages with colcannon, and Limerick ham with Irish cheddar quiche.
With live music and numerous large screens that feature sporting events, there is plenty of entertainment for O'Neill's patrons. Do note that the heated outdoor courtyard is often filled with rugby and football fans during game time.
3. The Snug (Boston)
The Snug has the feel of a pub with plenty of restaurant amenities. Located in Hingham, it has been awarded Best Irish Pub. The Snug's menu includes crowd favors including succulent French toast, New England clam chowder, and Ellen's Homemade Shepard's Pie. It adds live music four days a week starring The Bobby 'O Boys, Mark Purcell, and The Red Liners among others.
4. The Irish Embassy (Toronto)
The Irish Embassy was created within an old bank building in 1873. It is an upscale bar located in Toronto's Financial District. It's often filled with passionate Maple Leafs or Raptors fans waiting for the game or individuals looking to relax after work. As with many of the pubs on the list, The Irish Embassy has exceptional homemade food to go along with its impressive selection of drinks. Try a few patron favorites such as Jameson chicken liver pate, traditional Irish stew, and Kilkenny battered haddock.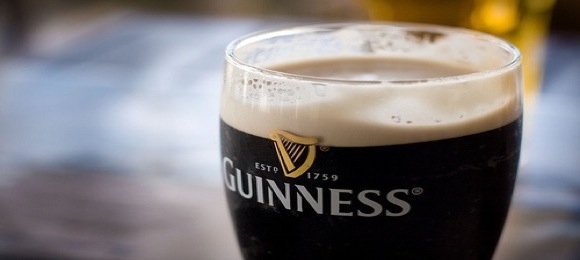 Guinness Beer © Peter Baker
5. Galway Arms (Chicago)
Galway Arms, located in the heart of Lincoln Park, has an extensive menu filled with Irish goodies to go along with lots of choices from the tap. Locals love their daily special such as "Everyday Chicken Pot Pie" Monday and "All-You-Can-Eat Fish & Chips" Tuesday. The Arms has been adding to their crowds with live Irish bands and its patio for the summer months along with a sit-down dinner option in their restaurant area.
6. The Brazen Head (Dublin)
No better place to relax with a pint of Guinness than Dublin. The Brazen Head states that it was the first on the pub scene dating back to 1198. True or not, The Brazen Head has plenty of history within its doors to go along with being a top music venue for Irish tunes. Their weekend line-up currently features lives tunes by Rafferty, The Rye River Band and The Brazen Hussies. Add to that their award-winning restaurant, specializing in Irish stew and seafood, and The Brazen Head was enough to make even James Joyce take notice.
7. Kildare's Irish Pub (Philadelphia Area)
Kildare's Irish Pub prides itself on being authentic. For a few of their locations, 40-foot containers filled with Irish artifact were shipped to the United States to recreate an Irish pub scene. If authentic was their goal then Kildare was successful. It has glasses of stout flowing and an extensive menu that would please anyone looking for a taste of Ireland. Try the traditional bangers and mash with Irish style sausage over a bed of mashed potatoes or the Guinness beef stew with vegetables simmered in the rich beer.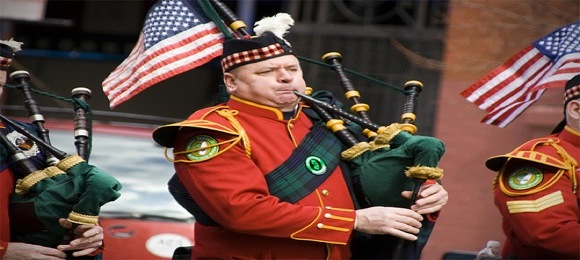 St. Patrick's Day Parade © R0sss
8. Durty Nelly's (Sydney)
Durty Nelly's has a relaxed atmosphere with prints imported from the National Gallery of Ireland to help emanate the feeling of Erin Go Bragh. Pouring its first brew as early as 1854, Durty Nelly's has plenty of history and tradition to go along with its fresh beer and tasty cuisine. When munching in the bar, try the black pudding with bacon baguette or the soup of the day with homemade soda bread. Consider their sit-down restaurant too with its seasonal menu.
Plan on being in Sydney for a while? Locals receive a plaque on the wall for joining the 100 Pints Club.
9. Fadó Irish Pub (Washington D.C.)
Located near the MCI Center, Fadó Irish Pub screams of authenticity. In fact, it was design with materials that were shipped over from Ireland. Fadó is often filled with basketball and hockey fans after games let out from the MCI Center, but the screens are often filled with Gaellic football and rugby too.
Visitors with an appetite will appreciate the corned beef rolls, Irish smoked salmon bites, and homemade shepherd's pie to go along with their brew.
Try some of the best pizza in NYC with that beer or read about more great Irish pubs.
___________________________________________________________________________________


Gennaro Salamone is the founder and editor of Enduring Wanderlust. Feel free to contact him with questions, comments, or inquiries with reference to contributing an article or photograph for publication.
Receive our free content by e-mail directly to your inbox or through an RSS reader.