Rice Farmers of Thailand Through the Lens
Chiang Mai is the largest city in northern Thailand. A combination of natural beauty and countless cultural activities makes the area a popular tourist stop. Travelers have the opportunity to visit local hill tribes, sample delectable local cuisine, and raft along the Ping River. On this day, a local guide led our small group of travel writers on a tour of Lanna or the "land of a million rice fields."
Follow this photographic journey featuring the Akha hill tribe transplanting rice: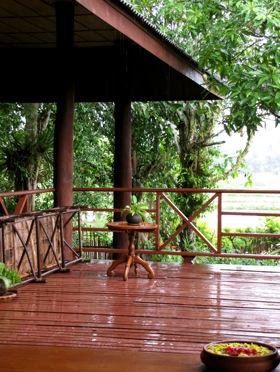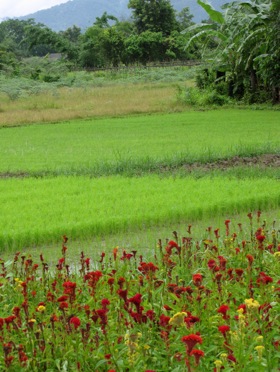 Khum Lanna + Chiang Mai Rice Paddies © Gennaro Salamone
We were set for a sunrise biking tour along the rural country road from San Kwang village to Phrao to visit the local markets. Leaving the charming Khum Lanna, we were met by steady rains that prevented a view of the sunrise. Despite that, the early showers on the emerald-green rice paddies provided a tranquil atmosphere for the sojourn.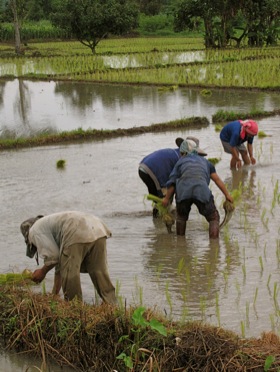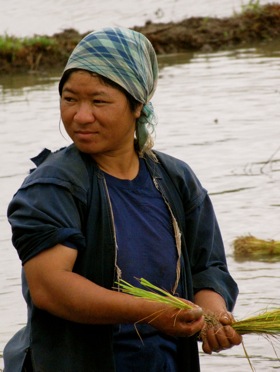 Akha Hill Tribe Transplanting Rice © Gennaro Salamone
We visited the local markets, stopping for tea and an interesting traditional drink that consisted mainly of raw eggs, before heading off to the area of the rice paddies where the Akha tribe was transplanting rice. Working in the rice paddies appeared to be labor intensive, but smiles were common among the inhabitants. This work is essential to the economic success of Thailand, which is the world's biggest rice exporter according to the Bangkok Post.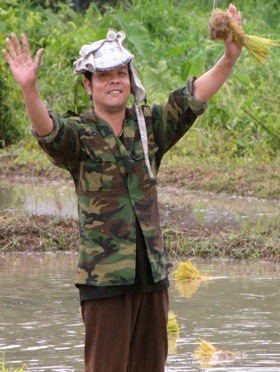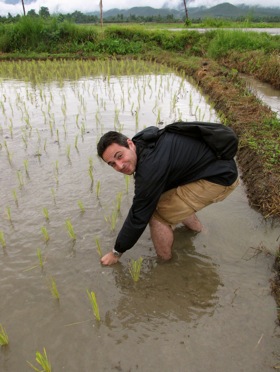 Local Farmer © Gennaro Salamone + Overzealous Travel Writer (Taken by Ted Beatie)
The highlight of the morning was an opportunity to join the Akha in the rice paddies for some hands-on learning. It's one thing to observe the nature of the labor, but having your legs ankle deep in mud while bending to stick rice plants into the ground gives a new level of understanding. We were fortunate to have a guide who had relationships with the community. Sometimes, it's worthwhile to forgo complete independence while traveling.
I was joined on the trip by travel writers: Angela Dollar, Ted Beatie, and Carlo Alcos. Visit and bookmark their websites. After that, view Lake Titicaca photos featuring the Uros people.
This trip to Thailand was courtesy of the Tourism Authority of Thailand. The content and opinions in the article are those of the author.
___________________________________________________________________________________


Gennaro Salamone is the founder and editor of Enduring Wanderlust. Feel free to contact him with questions, comments, or inquiries with reference to contributing an article or photograph for publication.
Receive our free content by e-mail directly to your inbox or through an RSS reader.