How People Travel [Chart]
The past few years has seen a gradually increasing shift from surface transport to air transport for travelers. Slightly over half of tourists arrived at their destination via air travel (51%) last year versus surface travel. The latter consisted of road (41%), rail (2%), and water (6%) transport according to the World Tourism Organization (UNWTO).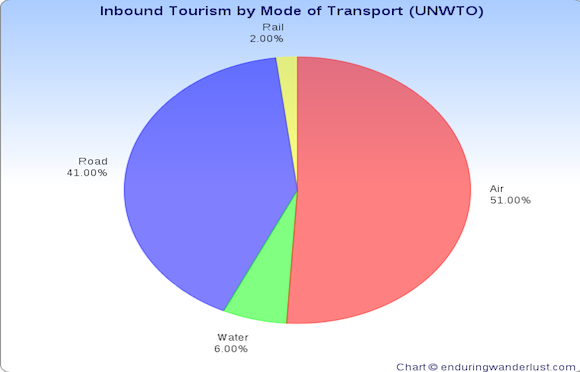 It's not surprising that air travel has increased as it has become cheaper in a lot of countries especially in Europe where rail travel has been a popular mode of transport in the past. That said, it's a bit astonishing that rail travel is only 2% internationally considering the sheer number of tourists that travel by rail between European countries. On a side note, it would be interesting to know how much of the road travel is by bus versus automobile.
View a chart answering: Why do people travel?
___________________________________________________________________________________


Gennaro Salamone is the founder and editor of Enduring Wanderlust. Feel free to contact him with questions, comments, or inquiries with reference to contributing an article or photograph for publication.
Receive our free content by e-mail directly to your inbox or through an RSS reader.