8 Great Movies for Paris Travelers
Paris, France offers its visitors one of the extraordinary urban playgrounds. Travelers seeking culture, romance, and flavorful cuisine flock to the "City of Light" to engross themselves in all things French. A perfect way to get a taste of Paris before running off to enjoy it is through film. Enduring Wanderlust has assembled eight great movies for travelers or lovers of Paris.
1. Before Sunset (2004)
Director: Richard Linklater
Protagonists: Ethan Hawke (Jesse) and Julie Delpy (Celine)
Jesse: "What do you think were the chances of us ever meeting again?"
Celine: "After that December, I'd say almost zero. But we're not real anyway, right? We're just, uh, characters in that old lady's dream."
Ever meet the person of your dreams while traveling? Before Sunset
sequel to Before Sunrise, is about the second meeting of Jesse and Celine. The two characters, initially, had a brief love affair after meeting on a train to Vienna, Austria. Nine years later, the two met again at Jesse's book reading about the romance, at Shakespeare & Co in Paris. With just a few hours before Jesse's plane leaves for the United States, Celine takes him on a stroll through Paris and a walk through memory lane. In addition to showing the beauty of Parisian life, Before Sunset delves into the ways in which the protagonists recall events along with the difference between the idealism of our 20's and the realism of the next stage of life.
Each person we meet in life, traveling or otherwise, provides a piece of our life's puzzle. As Celine says, "you can never replace anyone because everyone is made up of such beautiful specific details."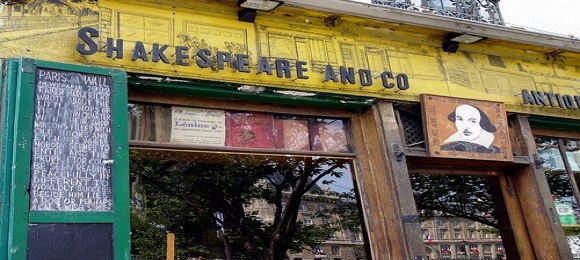 Shakespeare & Co, Paris © KTyler Conk
2. Amélie (2001)
Director: Jean-Pierre Jeunet
Protagonist: Audrey Tautou (Amelie)
Amélie: "I like to look for things no one else catches. I hate the way drivers never look at the road in old movies."
It's the details of Paris that make it such an alluring destination. Jeunet's film provides a visual masterpiece with a focus on the musing of eccentric Amélie
and her Montmartre neighborhood. A single waitress, Amélie spends her time attempting to help Parisians fix their lives. In the process, she realizes that it's her own life that needs to be altered. Travelers will see a lot of their own quirkiness in Amélie's character. They'll also appreciate her father's longing to travel along with her attempts to motivate him to follow through on the dream using a garden gnome.
3. The Dreamers (2003)
Director: Bernardo Bertolucci
Protagonists: Michael Pitt (Matthew), Eva Green (Isabelle), and Louis Garrel (Theo)
Isabelle & Theo: "We accept you, one of us! One of us!"
The ultimate experience in traveling or living abroad is being accepted as part of the local community. In The Dreamers
, Matthew manages to become part of an unusual Parsian family. He originally went to the City of Light, as an American exchange student, with an obsessive love for the cinema. Set in the turbulent May 1968 Paris, Matthew befriends Isabelle and Theo. We learn that the two siblings are a little too close for comfort. Along the way, Bertolucci infuses the film with his love of Paris. In the meantime, his audience slowly falls in love with the city and cinema itself as the characters interminably refer to and act out great film scenes.
As Matthew states, "I saw a movie at the cinémathèque française [and] I thought, "only the French…only the French would house a cinema inside a palace."
4. Breathless or À bout de soufflé (1960)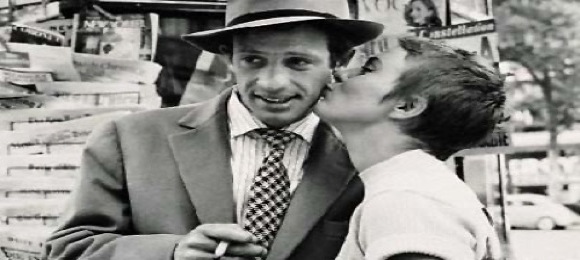 Breathless © Indie Wech
Director: Jean-Luc Godard
Protagonists: Jean-Paul Belmondo (Michel Poiccard) and Jean Seberg (Patricia Franchini)
Patricia: "I entered this world on the Champs-Elysees, 1959. La trottoir du Champs Elysees. And do you know what my very first words were? New York Herald Tribune! New York Herald Tribune!"
As with Matthew of The Dreamers, Patricia Franchini is an American studying in Paris in Breathless
. A student of journalism at the Sorbonne, Patricia meets Michel. Michel is a young troublemaker who has an affinity for American cinema and petty theft. Along the way, Michel's troubles escalate leading to the shooting of a police officer. He turns to the alluring Patricia to provide him with shelter during the storm.
Godard, one of the leading directors of the French New Wave of cinema, provides travelers with one of the great films set in Paris. Filled with drama, it gives viewers a taste of Paris in its hectic and revolutionary days.
5. 2 Days in Paris (2007)
Director: Julie Delpy
Protagonists: Adam Goldberg (Jack) and Julie Delpy (Marion)
Jack: "Can I use this thermometer?" [thermometer in mouth]
Marion: "I usually don't use this one in the mouth. I mean…"
Jack: "Oh, come on! What is wrong with you?"
Marion: "What? It's a French thermometer."
Julie Delpy (Marion) returns to direct and star in a tale of a New York-based French woman in love with an American (see Before Sunset). Two Days in Paris
chronicles the couples' trip to Europe including their soujourn to France. Marion and Jack follow the trail of many travelers who take off, across the globe, in hopes of rekindling their relationships. Unfortunately for this couple, Paris is a tougher cultural experience than Jack can handle. Filled with humor and intellectual banter, 2 Days in Paris is a worth a watch.
6. Paris Je T'aime or Paris, I Love You (2007)
Directors: Twenty Different Individuals
Carol: "Sitting there, alone in a foreign country, far from my job and everyone I know, a feeling came over me. It was like remembering something I'd never known before or had always been waiting for, but I didn't know what."
Paris, Je T'Aime
is a tribute to the City of Light. Twenty directors filmed segements of the movie detailing every aspect of Parisian life. This Ode to Paris delves into the human experience with a connection to their urban jungle. Though there are melancholy segments in the film, viewers walk away with a true feeling that Paris penetrates the core of its inhabitants and visitors. The film may be best for those returning from a trip to Paris. It stirs up all the small joys a traveler experiences in the city.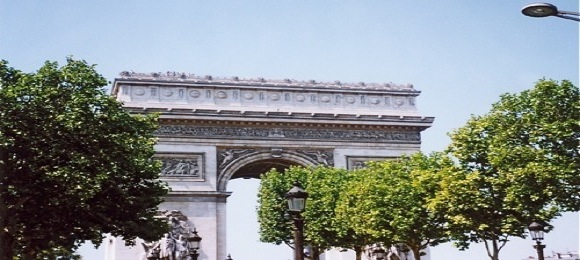 Arc de Triomphe © Gennaro Salamone
7. Last Tango in Paris (1973)
Director: Bernardo Bertolucci
Protagonists: Marlon Brando (Paul) and Maria Schneider (Jeanne)
Paul: "I'm awfully sorry to intrude, but I was so struck with your beauty that I thought perhaps I could offer you a glass of champagne." "Is this seat taken?"
Jeanne: "No."
A controversial film starring Marlon Brando (Paul) playing an American expatriate in Paris. Paul is struggling to cope with the suicide of his wife. That episode fills the protagonist with grief and aggression. The outlet for his emotions is French woman named Jeanne. Paul proceed to be involved in an intimate relationship with Jeanne. The arrangement calls for no names to be exchanged. Paul continuosly demeans the young French woman over the course of their meetings.
When Jeanne is finally ready to end the affair for a traditional marriage, Paul reveals his love for her: "you ran through Africa and Asia and Indonesia, and now I found you. And I love you. I want to know your name!." Jeanne responds with a simple, "Jeanne."
Last Tango in Paris
isn't ideal for all travelers, but it's a masterpiece in filmmaking and character studies.
8. Ratatouille (2007)
Co-Directors: Brad Bird and Jan Pinkava
Remy: "What are you eating?"
Emile: "I don't really know. I think it was some sort of wrapper once."
Remy: "What? No! You're in Paris now, baby! My town! No brother of mine eats rejecta-menta in my town!"
Ratatouille
is perfect for families traveling with young children. It's also wonderful for adults who are passionate about French cuisine. It's an animated tale that stars a rat named Remy. Remy has dreams of leaving the sewers of Paris to become a well-respected chef in Paris. Putting his life on the line, Remy manages to win the hearts of the kitchen staff along with the members of the audience.
The film engenders a love for the underdog along with a feeling of passion for French delicacies. It also succeeds in reminding us of the magic of eating at the family table growing up. Don't let the animation fool you. This story is human at its core.
Editor's note: This post contains affiliate links.
Read about 5 Great Arts Festivals That You Can't Miss.
___________________________________________________________________________________


Gennaro Salamone is the founder and editor of Enduring Wanderlust. Feel free to contact him with questions, comments, or inquiries with reference to contributing an article or photograph for publication.
Receive our free content by e-mail directly to your inbox or through an RSS reader.