Dubai to Ban Public Kisses, Skimpy Clothes
Dubai is in the process of passing a set of behavior guidelines that are aimed at expatriates and visitors to the Gulf city. The restrictions will include an end to dancing, kissing, or hugging in public. Couple that with limiting bikinis and "skimpy" clothing to private resorts and Dubai has made significant changes to its policies. The response is partly connected to the British couple that was convicted for having sexual relations on a local beach last year.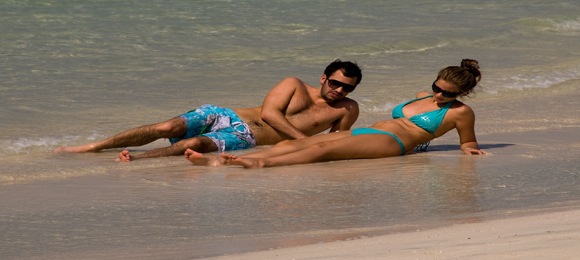 Couple on Dubai beach © Mike O'Connell
A significant portion of Dubai is filled with migrant workers, expats, and tourists. It's not surprising that locals would fear an erosion of their culture. Toss in the conservative nature of the region and Dubai was destined to make some changes. That being said, a significant percentage of their revenue comes from tourism. That income may take a major hit with travelers looking to enjoy the local beaches. Are tourists still going to come if bikinis aren't allow at public beaches? Part of the allure of Dubai is the Middle East culture without the strict provisions. A backlash is likely.
Would a ban on public affection and "skimpy" clothing cause you to avoid a trip to Dubai? Does Dubai have a point? Are the migrant workers, expatriates, and tourists crossing the line?
Read about Utah opening its bars to the public after 40 years of restrictions.
___________________________________________________________________________________


Gennaro Salamone is the founder and editor of Enduring Wanderlust. Feel free to contact him with questions, comments, or inquiries with reference to contributing a travel article or photograph for publication.
Receive our free content by e-mail directly to your inbox or through an RSS reader.