When you hear Uganda, if you've never been there, the first thing that comes to mind is Idi Amin and perhaps the more recent civil unrest in the north. Well, I certainly associated Uganda with these things, but when I visited the country last month, it painted a different story altogether. Now, when I think about Uganda, I think of lush green hills, white water rafting (apparently, the second best rapids in the world), gorilla safaris, which I wished I'd done, and the very friendly people.
Editor's Note: This post was written by guest contributor Meera Ashish.
So, discovering how much Uganda has to offer, why then is Uganda not a tourist hot spot? Well, I definitely met tourists while traveling around here, but why isn't Uganda on the tourist map as much as say Kenya or Tanzania? Of course, the quality of safaris that the latter two countries offer are unrivalled, but if you go to the right places in Uganda, you'll certainly get to see the big five. When I visited Murchison Falls, I managed to see two lionesses and one majestic lion from up close on my very first day. When I say close, they were just steps away from our jeep: sitting, lazing, and yawning. One thing's for sure, traveling by road to Murchison Falls or anywhere can be a little tiring, though simultaneously eye-opening, and if you want to take a plane anywhere, it might pinch your pockets. So it definitely doesn't help that traveling within the country is either long or expensive.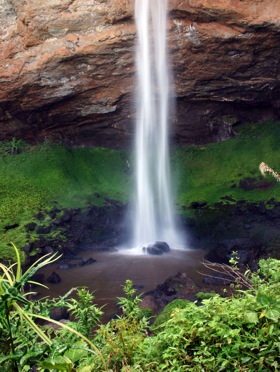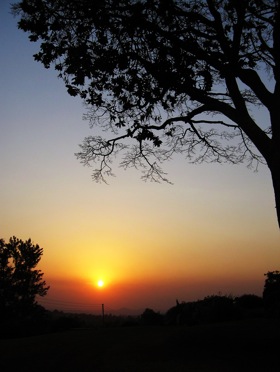 Sipi Falls + Kampala Sunset © Meera Ashish
But regardless of all this, I think the lack of tourism here is to do with the fact that there just hasn't been enough of a push in media. Yes, Uganda may have its own problems, just like any other country, but it seems that the government here needs dedicate a team and invest some capital into marketing the country. No matter how much a country has to offer, if the average person living in any other city of the world doesn't hear anything about it – well apart from watching Last King of Scotland and thinking that Uganda still hasn't quite recovered from the despotic leader it had so many years ago – then how can that country expect to attract high numbers of tourists?
And it isn't just the game parks, the gorillas and the Nile that can attract tourists. Kampala, the capital city of Uganda, is bustling with activity. It was a good place to start from, but also fascinating to understand the growth potential here, learning that Uganda had found barrels and barrels of oil. I wondered how different it would look in ten years, with all the oil money.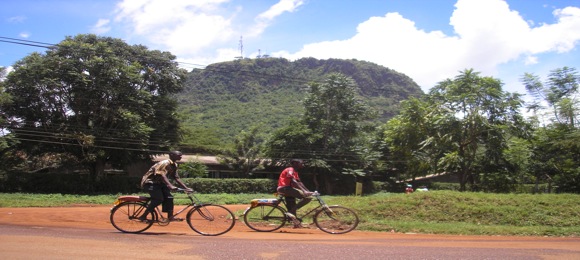 Biking in Uganda © Meera Ashish
Apparently, they say that the land in Uganda is so fertile that anything you put in the soil will grow and bloom. Well, all the food I ate here certainly tasted extremely fresh and organic. The staple food here –a stodgy and mushy matoke mixed with groundnut soup and then a bean mixture (not quite sure what to call it) – might look bland and a little grubby, but it tastes pretty good. And some of the best dishes, you'll find being cooked on the streets, from fresh and hot cassava to something called rolex – a rolled up fluffy egg chapati. I had this – without the egg – while quad biking through a village in Jinja. Nothing could have tasted better!
The quad biking route in fact overlooks the rafting in the Nile, but having never done rafting, I was a little apprehensive this time. Which means I have a lot left for next time. And the great thing is: I'm coming back at the end of this year for a bike ride from the famous Sipi Falls to Kampala, raising money for secondary schools in Uganda. Cycle4Uganda is hoping to attract a hundred people from around the world to participate in this 350km bike ride over the New Year period.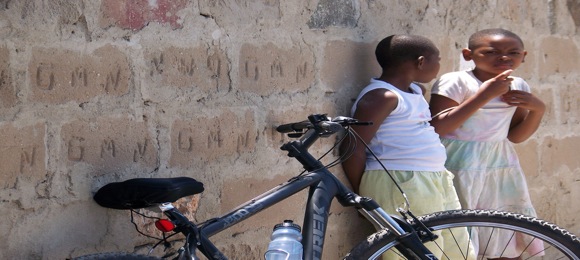 Girls from Uganda © Meera Ashish
The route will take in some of the most scenic spots in the region. Beginning at the imposing Tororo Rock, an ancient volcanic plug, the route takes us into the foothills of the magnificent extinct volcano, Mount Elgon, to view the spectacular Sipi Falls, a series of waterfalls with imposingly huge drops where much of the water from the mountain cascades off. Halfway through the ride there is an action packed 'day-off' in Jinja – so I'll be rafting then. The route finishes with us leaving our bikes on the lakeshore and taking a small boat across Lake Victoria to a resort in Kampala, the capital city. We'll be passing not only through the rural country, but also through several bustling towns. And of course, it's going to be warm (apparently a warm climate all year round as it sits on the equator).
The bike ride is aiming to raise £150,000 or $230,000 to help secondary schools in Uganda. This will be done through an innovative program that has been devised by Mara Foundation, a charity based in Uganda. Rather than just spending money on a school and then going away, Mara Foundation partners with schools long-term to help them come up with new solutions for providing better education. The charity is quite unique – it recognizes the importance of good facilities, so raises money to develop them, but it also acknowledges that good facilities is only a small part of a quality education. The foundation has already partnered with two schools and hopes to scale the program up to ten schools in the coming year.
If you want to join the bike ride over the coming New Year, sign up on Cycle4Uganda.
___________________________________________________________________________________


Meera Ashish is a weekly travel columnist for Gulf News, Dubai and contributes to various publications including Bazaar, Conde Nast, Spa Secrets, Epoch Times, and Travel Plus. Her guide to Dubai was recently published in the UK, and while she was born and brought up in London, she now splits her time between Uganda and Dubai – well, that's when she's not journeying around the world.
Receive our free content by e-mail directly to your inbox or through an RSS reader.
Sunrise Over San Pedro
Few experiences are as lovely as waking up to the sun's rays shining on your face. It's especially enjoyable when it happens over the balcony of your accommodations (The Phoenix Resort) in view of palm trees and the crystal clear waters of San Pedro, Belize. San Pedro, a hip town on the southern part of the island of Ambergris Caye, has a range of activities and restaurants that will keep even the most seasoned travelers awed.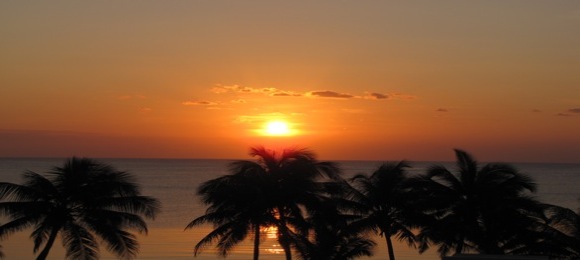 Sunrise © Gennaro Salamone
Swimming With Sharks
No trip to San Pedro would be complete without a visit to Hol Chan Marine Reserves and Shark Ray Alley. Depending on the location of your hotel, a simple walk along the white sand beaches of the town will lead you to a plethora of companies who specialize in diving and snorkeling trips. Xtreme Adventures was responsible for ensuring that five travel bloggers and writers (see below) including myself experienced the vast underwater wildlife of the area. This included seeing sea turtles, barracudas, sharks, and stingrays over the course of a forty-minute swim. For those who are interested in getting close to the wildlife, the leaders of the expedition will hold onto sharks and stingrays for participants to pet.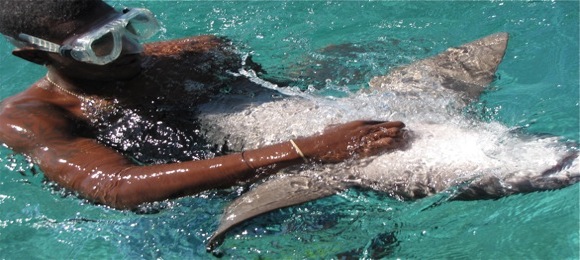 Swimming With Sharks © Gennaro Salamone
Streets of San Pedro
After filling much of the morning with swimming and sunning, it's a smart move to navigate the shop-filled streets of San Pedro looking for lunch. Be sure to keep your wits about you during your walk as golf carts, which can be rented on the island, are often whizzing bye.
Our landing spot for the afternoon was Elvi's Kitchen. The restaurant gives off the feeling of home both in its presentation and cuisine. Started by Elvi Staines and her family, the spot has become the most famous restaurant on the island. Patrons can select from a wide-range of fresh seafood, which is prepared with a local touch. On this day, the ceviche, conch, and coconut curry shrimp were particularly memorable.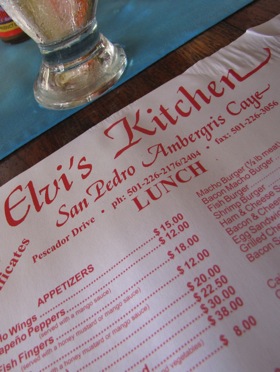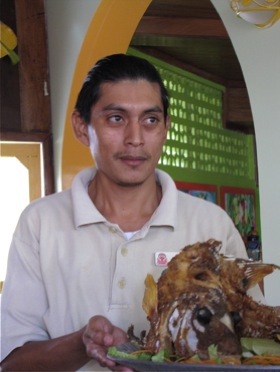 Elvi's Kitchen © Gennaro Salamone
Parasailing
If you're looking for some excitement after lunch, parasailing in the early evening will provide for a unique experience. Either in pairs or solo, Extreme Adventures will launch willing participants off their boats and over the waters of Belize connected to their parasailing gear. There is a slight adrenaline rush after lift off, but a relative calm sets in while looking over the blue waters and island formations off the coast of the Central American nation. The activity is also considered to be safe and people of various ages and abilities will be able to participate. One of the leaders of the adventure company even talked of a man who was wheel-chair bound going up earlier in the morning.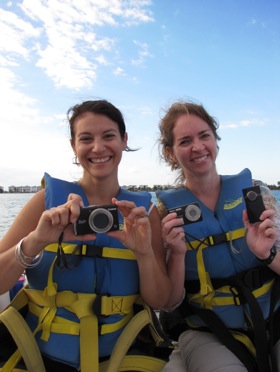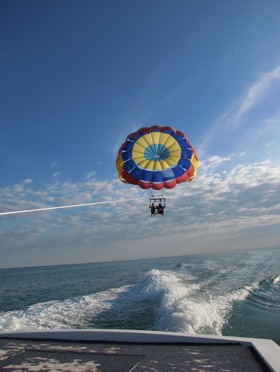 Melanie and Kara Parasailing © Gennaro Salamone
I was joined on the trip by travel writers: Melanie Waldman of Travels With Two, Christine Gilbert of Almost Fearless, Kara Williams of The Vacation Gals, and Kerrin Rousset of MyKugelhopf.
This trip to Belize was courtesy of the Belize Tourism Board. The content and opinions in the article are those of the author.
___________________________________________________________________________________


Gennaro Salamone is the founder and editor of Enduring Wanderlust. Feel free to contact him with questions, comments, or inquiries with reference to contributing a travel article or photograph for publication.
Receive our free content by e-mail directly to your inbox or through an RSS reader.
Editor's Note: This post was written by guest contributor Lisa Fantino.
There is no time like the present for visiting and getting bargains in jolly old London, which has been called the most expensive city in the world.
Right now, with the state of the economic climate and exchange rates for the dollar and euro against the pound better than a year ago, there are plenty of bargains to be had in London for food, culture and off the beaten path. Here are ten great things to do for £10 or less:
1. Courtauld Gallery
Courtauld Gallery is one of London's best kept secrets. The museum, located at Somerset House on The Strand, contains one of the best collections of impressionistic art outside of the major museums. Admission is just £5 for adults, while visitors under 18 are free. Also, if you go on Mondays between 10am and 2pm, admission is free for everyone. Visitors can see masterpieces by the fathers of impressionism: Monet, Manet and Renoir. There are other impressive collections such as Rubens & The Baroque, The Renaissance and Gothic & Medieval Art. The Courtauld even houses original sketches by Michelangelo, DaVinci, Picasso and Van Gogh.
2. The Tate Modern
The Tate Modern is an imposing modernistic structure on the south side of the Thames. While the Tate houses 60,000 works from artists dating back to the 16th century, the collection at Tate Modern focuses only on those works created from 1900 to the present – think Salvador Dali, Andy Warhol, Joan Miro and Roy Lichtenstein. Admission is free except for major exhibitions.
3. Camden Market
This is the shopper's paradise for everything quirky at Camden Lock, along with a good sampling of British antiques at Camden Stables tossed in for good measure. This is also a good day outing because it's free to walk around and soak in the local color.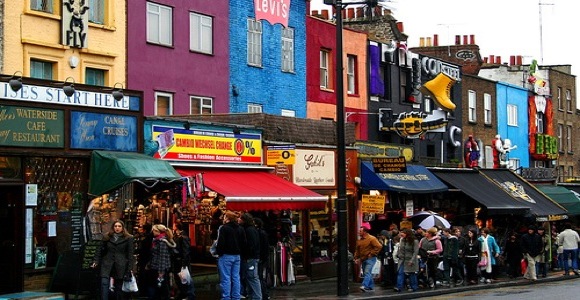 Camden Market © Robin H00d
4. Bloomsbury Bowling Lanes
For Americans wanting to feel like they just stepped into Happy Days, this is the place to visit. The Bloomsbury Lanes are located in the heart of Russell Square, which is quite near the University of London. It's a step back in time to the 1950s, where you can bowl and listen to new bands, along with catching some vintage film clips. You have to hunt for this place since it's located in the basement of the Tavistock Hotel. It'll cost you a bit to bowl but a burger and fries only runs about £7.95. And if you're looking for music, the Lanes have a regular Rock 'n' Soul Bop for £5 with a D.J. spinning the hits and Retro Remix nights for £7. Also, if anyone is as dance crazy as this writer, don't miss Sundays through November when they have Swing Alley dance classes from 5-10pm for only £7.
5. 100 Club
A visit to London would not be complete without a stop at this legendary music venue, also located in a basement off Oxford Street. On an off-night you can catch great music and quite possibly the next big band to make a splash across the pond, with tickets as little as £3.
6. Ceremony of the Keys
"It's 10pm and all's well," cries the Chief Yeoman Warder at the Tower of London. This is a ceremony of historical pomp and circumstance and occurs well after the last tourist has left the Tower of London. The Ceremony of the Keys, which is the formal locking of the gates of the Tower, has been carried out continuously every night, without fail, for more than 600 years since 1340. However, you must plan your visit months in advance. You must send in a written request at least three months before your selected date and hope for the best. The good news is that the rare lucky ducat is free.
7. Donmar Warehouse Theater
You never know who you will find performing at this intimate West End theater at an affordable ticket price. The gorgeous Jude law just finished up in Hamlet and Rachel Weisz returns to the Donmar to play Blanche DuBois in Tennessee Williams' "A Street Car Named Desire" through October 9th. The small venue only accommodates 250 people and tickets can be had for as little as £10.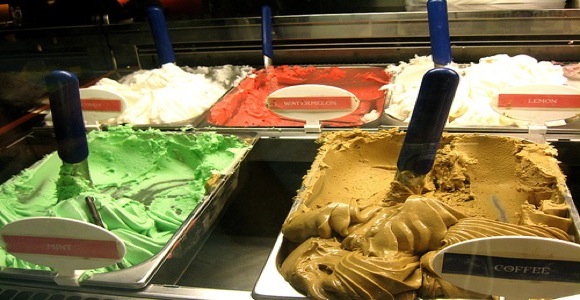 Ice Cream, Pizza Express © Melting Noise
8. London Transit
The tube is the most efficient way to get around central London since taking a bus can have you stuck in traffic for hours if you go anywhere near or around Oxford Street. The London Transit system now offers daily and weekly travel cards, as well as a special reusable Oyster Card for overseas visitors. However, unless you plan on picking up the Oyster Card in person in a major city, the best alternative is the daily or weekly travel card which can be purchased at any tube stop.
9. Pizza Express
You might find it slightly odd that an Italian-American writer is recommending a chain restaurant for pizza…..in London of all places…..but Pizza Express has enough quality, value and variety to suit every budget and palette. My particular favorite is the Veneziana which only runs £6.55 (You can also feel good about eating this particular pizza because 25p of every sale goes to support the charity Venice in Peril). A bottle of mineral water will run another £2.20 and you can have a great lunch or dinner for under £10 in the most expensive city in the world. Just as an aside, my particular favorites of this chain are located in fashionable Knightsbridge on Beauchamp Place and near the Millbank Pier with partial river views.
10. Food Garden Cafe at Selfridges
Hidden on the top floor of this century-old London shopping institution is a great restaurant offering everything from Indian entrees and a salad bar to fancy crusted pretzels and custom crepes and jacket potatoes. You can pile it on at the salad bar for about £6.50.
Let me know how you make out and if you find any other deals along the way! Tah!
___________________________________________________________________________________


Lisa Fantino is an award-winning journalist turned attorney with a spirit of adventure that has sent her wanderlusting across the globe. You can find her all over the web at her Wanderlust Women Travel blog and on Twitter.
Receive our free content by e-mail directly to your inbox or through an RSS reader.
The pre-Incan Uros live on a series of floating islands on Lake Titicaca in Peru. The lake is located on the border of Peru and neighboring Bolivia. At over 12,000 feet, Titicaca is one of the highest navigable lakes in the world. The lake is a popular tourist destination, but only a few of the floating islands accept visitors.
Follow this photographic journey about the Uros of Titicaca: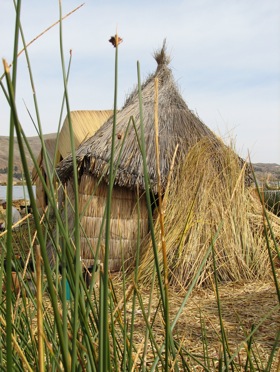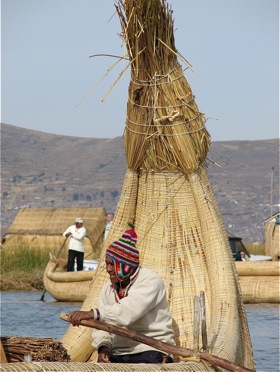 Uros Man + Floating Islands of Lake Titicaca © Gennaro Salamone
The floating islands are created from the totora reeds that grow naturally in the lake. These reeds are also used for meals, medicine, and for build boats. The boats were traditionally used for transportation, fishing trips, and defense. Carachi and catfish are two of the fish that have been caught for generations. Today, boats are often used for profit by locals who take travelers for a short journeys.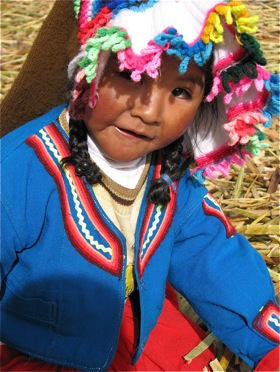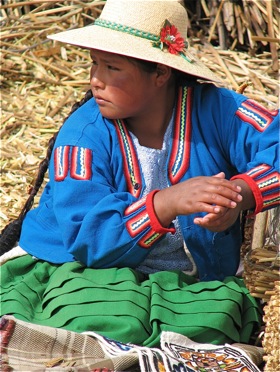 Uros Girls © Gennaro Salamone
The islands are filled with Uros children who are either wandering around or selling their family's wares. The younger girl (left) was fascinated with a cat that was strolling across the reed floor of their island. You'll find that all of the women are dressed in traditional clothing whereas a few of the men wear Western hats or pants. It's also true that Uros women make most of the contact with tourists including providing information, selling goods, and setting up arrangements for overnight stays.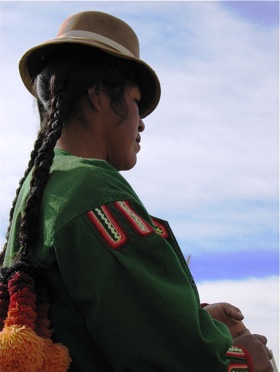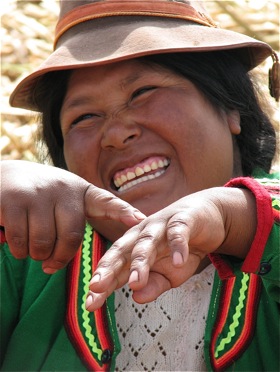 Uros Women © Gennaro Salamone
Only a few hundred Uros remain on the islands. Thousands of others have moved to the mainland. The Uros who remain on the island rely on a combination of traditional living and modern amenities. They have some electricity which powers their own radio station and a few hours of television per day. That being said, living on the island isn't an easy life. Maintaining the totora reeds takes a lot of labor. The same is true of gathering food, educating children, and dealing with the encroachment of outsiders.
View another featuring journey Cusco, Peru photos.
___________________________________________________________________________________


Gennaro Salamone is the founder and editor of Enduring Wanderlust. Feel free to contact him with questions, comments, or inquiries with reference to contributing an article or photograph for publication.
Receive our free content by e-mail directly to your inbox or through an RSS reader.
Pushkar is located on the shore of Pushkar Lake in Rajasthan, India. It is an important pilgrimage site for followers of the Hindu faith. The lake has countless ghats, which are a series of steps that lead down to its sacred waters. The city is filled with devout Hindus who descend into the waters of the lake for a spiritual cleansing along with travelers who are observing the cultural happenings.
Follow this photographic journey around the ghats of Pushkar: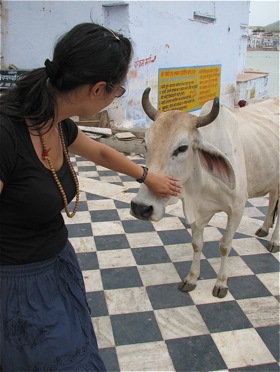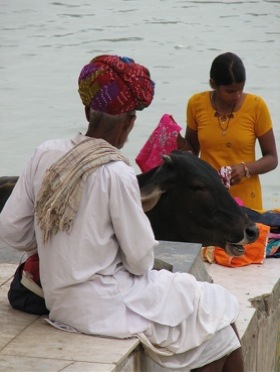 Holy Cow + Preparing To Bathe © Gennaro Salamone
Sacred cows are seen throughout India including Pushkar. Whether it's a rural area or walking down the streets of a major city, cows are a permanent part of the landscape. Revered by followers of the Hindu faith, the animals are well fed by owners and local passers-by. Travelers are often seen petting the gentle creatures (see photo above). Do note that beef is not readily available in Hindu communities. Tourists who are desperate for a fix will need to visit a Muslim community instead.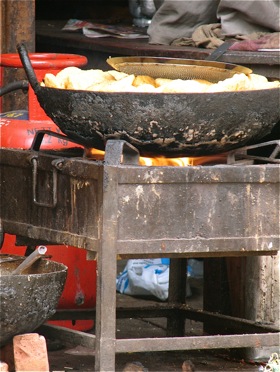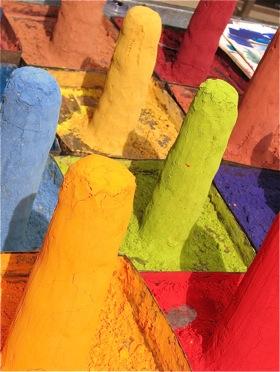 Pushkar Street Food + Colored Powder © Gennaro Salamone
Before visiting several of the 50+ ghats of Pushkar Lake, indulge in some of the local street food. The cuisine uses a variety of spices and flavors that remains unmatched by other ethnic foods. After filling up, walk the streets of Pushkar which are filled with small shops that sell local products ranging from bracelets and clothing to the colorful powder used during festivals like Holi. That festival involves the throwing of colorful powder and water at friends and family.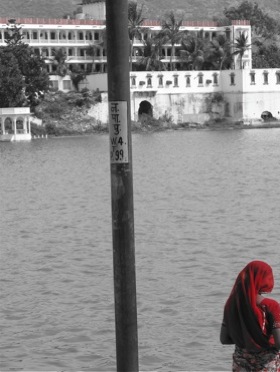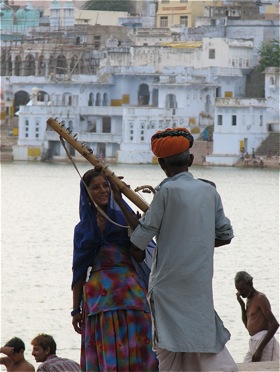 Solitude + Musician of Pushkar © Gennaro Salamone
The ghats of Pushkar are considered a holy place. Hindus use the steps to descend into the sacred waters of the lake. Each ghat has a unique feel to it ranging from a place of solitude to a more celebratory atmosphere. Foreigners are expected to remove their shoes when entering the ghat area. It's also considered inappropriate to photographs bathing locals without their permission.
Follow another photographic journey to Bodh Gaya, India photos.
___________________________________________________________________________________


Gennaro Salamone is the founder and editor of Enduring Wanderlust. Feel free to contact him with questions, comments, or inquiries with reference to contributing a travel article or photograph for publication.
Receive our free content by e-mail directly to your inbox or through an RSS reader.
NBA basketball has exploded on the global scene. While baseball and American football remain the top two sports in the United States, it's Kobe Bryant and Lebron James who are the most recognized athletes around the world. Attending an NBA game is a great way to enjoy a part of American culture. For the best experience, try one of these arenas:
Conseco Fieldhouse (Indiana Pacers)
Conseco Fieldhouse is the home of the Indiana Pacers. It was built to mirror the experience of attending a college basketball arena. The fieldhouse also has a retro feel to it. Pairing the rich Indiana basketball history with the passion of the college-esce environment allows for a unique experience for visitors. While the Pacers have struggled in recent years, its knowledgeable fans continue to fill the arena.
Madison Square Garden (New York Knicks)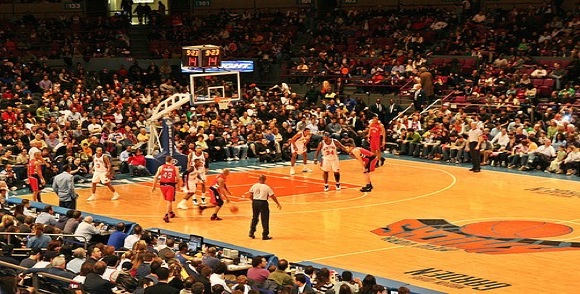 Madison Square Garden, New York © SoulSqueeze
Madison Square Garden is the stomping ground of the New York Knicks. Located above Penn Station, MSG has hosted a variety of sporting events ranging from championship boxing to the Stanley Cup hockey. Its history and location in the heart of New York City has made The Garden popular among NBA players. Michael Jordan was one of many who brought their best performances to MSG. Not a basketball lover? Spot Chris Rock, Woody Allen, and Spike Lee who frequent Knicks games.
EnergySolutions Arena (Utah Jazz)
EnergySolutions Arena is the home of the Utah Jazz. As the only major professional sports team in Utah, the Jazz have the full attention of local sports fans. The venue is built in a way that gives fans an ultra close view. The passion of the fans makes it one of the loudest arenas in the NBA. An added benefit of attending a game is the toughness of the teams under coach Jerry Sloan. Sloan is the longest tenured (20+ years) coach in professional sports.
TD Garden is the home of the Boston Celtics. The Celtics are the most successful team in NBA history with 17 championships. With legends like Bill Russell, Bob Cousy, and Larry Bird, fans have experienced decades of great basketball. Despite a tough stretch after the Bird Years, the Celtics returned to glory in 2008 with their 17th title. The arena itself isn't spectacular, but the passion of the Boston fans make up for it. Catch a game before the Pierce, Garnett, and Allen trio breaks apart.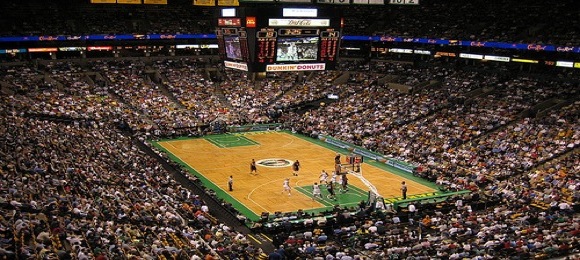 TD Garden, Boston © Rene S
Rose Garden (Portland Trail Blazers)

The Rose Garden is the stomping ground of the Portland Trail Blazers. As with the Utah, Portland has only one major professional sport. This has led to a similar raucous atmosphere. With the Blazers returning to form over the past couple of years, the state-of-the-art venue has been filled to the brim. With Paul Allen owning the team, Portland will have no problem keeping their young nucleus together.
Staples Center (Los Angeles Lakers)

Staples Center is the home of the Los Angeles Lakers (and the Los Angeles Clippers). The Lakers are second to the Boston Celtics with 14 NBA championships. Their history is equally rich with Wilt Chamberlain, Jerry West, Magic Johnson, and Kareem Abdul-Jabbar among their hall of famers. Today, Kobe Bryant leads a Lakers team that is looking to return to championship form. As with Madison Square Garden, celebrities are easy to spot at Lakers games including Jack Nicholson, Denzel Washington, and Leonardo DiCaprio.
Read about the best MLB ballparks to visit and the best NFL stadiums to visit.
___________________________________________________________________________________


Gennaro Salamone is the founder and editor of Enduring Wanderlust. Feel free to contact him with questions, comments, or inquiries with reference to contributing an article or photograph for publication.
Receive our free content by e-mail directly to your inbox or through an RSS reader.
Editor's Note: This post was written by guest contributor Katie Greenaway.
The center of Florence, Italy has countless ristoranti and trattorie. Which do you choose? The waiters in Piazza Repubblica and Piazza Signoria grab your attention by conversing with you as you skim over the menu. They devise a plan to convince you to eat at their ristorante and then lure you inside. Most give in because of the exhaustion tourists have in the heat of summer and feel they should stay in familiar areas. But what about all the places you are missing outside the touristic center, on the Oltrarno, for example? Walking over the Ponte Vecchio to the other side brings a breath of fresh new smells and vistas. The alleyways hide a lot from the cautious traveler. Walk down one and see what you find.
Quattro Leoni is located on Piazza della Passera. It meets at a crossroads. The ristorante is set on the corner of the piazza that brings the bustle of the city to a gentle whisper. Inside there are about a dozen tables that are full on any given night. In the spring and summer, enjoy lunch outside under the umbrellas. People-watch or bask in the calm and simplicity of the piazza. Reservations are a must on the weekends. Notice the walls, they contain photos of many celebrities that frequent this secluded locale. Yes, even Sting eats here! This spot is very popular because few tourists stroll into Piazza della Passera. This place is usually run by the locals. Be aware when waiting to be seated that there might be some regulars that pop ahead of you. No worries as they will seat you, the staff is very welcoming and kind.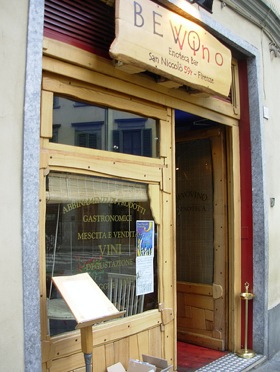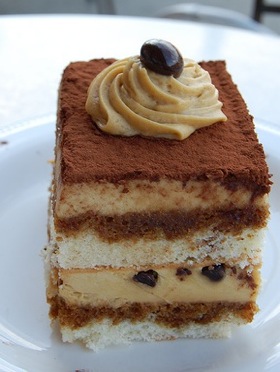 Bevo Vino (left) © Rob React and Tiramisu (right) © Koyochi
Bevo Vino welcomes each patron with warmth and charm. When you enter Bevo Vino you are arriving at an old friend's home. Small secluded table areas with an opportunity to sit alone and enjoy the atmosphere around you. The menu is small with recommendations galore from the wait staff. Seasonal dishes are featured as well as typical desserts like tiramisu, which is a must when in Florence. A few tables are scattered throughout giving you a feel of what it is like to be a local. Smell the fresh tomatoes as they pass by on a plate of bruschetta. They come to the table with kindness and smiles. Prego, cosa volete? (My pleasure, what would you like?) I don't know any other place in Florence as bona fide and personable. It's so fresh and genuine that it's worth a stop off the beaten path.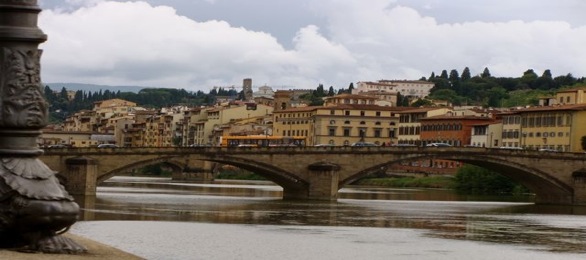 Cross Over To Oltrarno © Katie Greenaway
Osteria Antica Mescita San Niccolo is a family run osteria that gives each patron a sense of home. Tables are booths and you could end up sitting next to people you don't know. There is a lower level with tables arranged like in a cantina; all you need is a barrel of wine. A cute little bar sits in the left corner where you pay and where the waitress picks up your dishes. All guests leave here happy. As some osterias are rather pricey, this one is worth every penny. Each day their menu consists of specialties made from the heart and soul. Both located in San Niccolo, you will notice as night falls how the locals flock into crossroads between Bevo Vino and Osteria Antica Mescita San Niccolo. Immerse yourselves with the sounds of authentic Florence. Experience small cars honking as they squeeze through people-crowded streets, the chatter of Italian banter, and the clinging of glasses and dishes which allows us to realize we aren't dreaming.
___________________________________________________________________________________


Katie Greenaway fell in love with Italy from her first visit in 2002. She now calls it home, writing and capturing the culture of the enchanting city of Florence. She is always exploring the ancient cobblestones of Florence, one step at a time. Follow her blog: Olio di Oliva e Sogni di Vino and Twitter.
Receive our free content by e-mail directly to your inbox or through an RSS reader.
Luang Prabang is a pleasant city in the Lao People's Democratic Republic. The city is one of the popular tourist stops in this former French colony. The area is perfectly suited for those seeking outdoor activities or a spiritual journey among local monks. Luang Prabang also finds itself on the Mekong River, which is rich in biodiversity. Fishermen can be viewed perfecting their craft on the shores of the 12th longest river in the world.
Follow this photographic journey featuring two of these fishermen: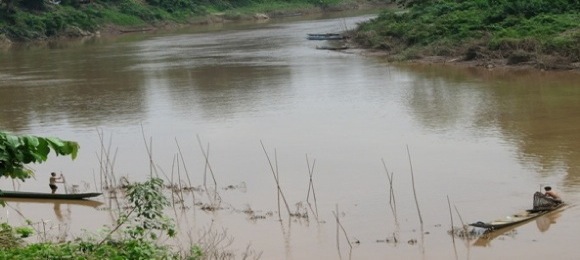 Mekong River, Laos © Gennaro Salamone
The Mekong River plays a vital role in the economy of several Southeast Asian countries. Laos is particularly dependent upon it with all their major cities located on the river. Luang Prabang, a north-central city, is a interesting spot for a river voyage or to simply watch locals at work.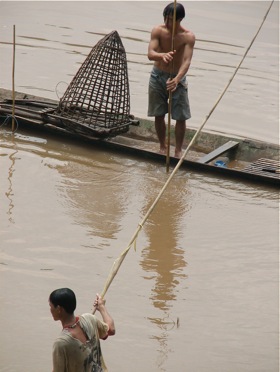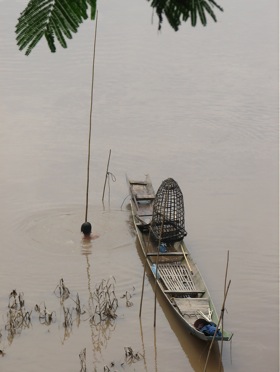 Fishermen, Luang Prabang © Gennaro Salamone
The best time to view the fishermen in action is early in the morning. This is when they catch fish for their families or to sell at the various markets. The men working on the river are very friendly, but rarely speak English. Learn a few Lao phrases to break the ice before asking to photograph them.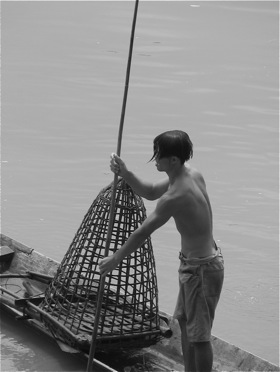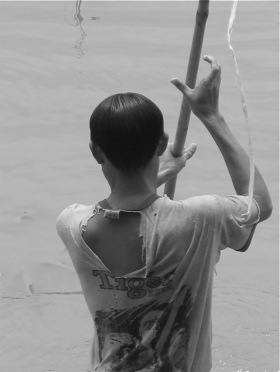 Fishermen, Luang Prabang © Gennaro Salamone
The condition of their equipment gives some insight into the economics of fishing on the Mekong. Local fisherman often use primitive gear that requires a lot of manual labor. That usually makes for a limited catch per day. The men in the photographs remained in the same spot for two hours. They caught six decent-sized fish.
Follow another photographic journey to Pushkar, India.
___________________________________________________________________________________


Gennaro Salamone is the founder and editor of Enduring Wanderlust. Feel free to contact him with questions, comments, or inquiries with reference to contributing a travel article or photograph for publication.
Receive our free content by e-mail directly to your inbox or through an RSS reader.
April marks the start of another baseball season. No visit to the United States is complete without catching 9 innings of America's national pastime. Though American football has caught baseball in popularity, baseball continues to be beloved throughout much of the country. For the best experience, watch a game at one of these great ballparks:
Fenway Park is the home of Red Sox Nation. The oldest ballpark in the majors, Fenway was opened before World War I. The Red Sox won 4 World Series titles before being struck by the Curse of the Bambino (selling of Babe Ruth to the New York Yankees). The curse left the Sox faithful with heartbreak after heartbreak from 1918 until 2004. The last few years, however, have seen the Red Sox return to World Series form making tickets hard to attain especially with fewer than 40,000 seats in the ballpark.
Do note that spectators are expected to sing Neil Diamond's Sweet Caroline (good times never seem so good…so good, so good, so good!) at the top of their lungs before the bottom of the 8th inning. It may also be a good idea to leave your NY Yankees jersey at home.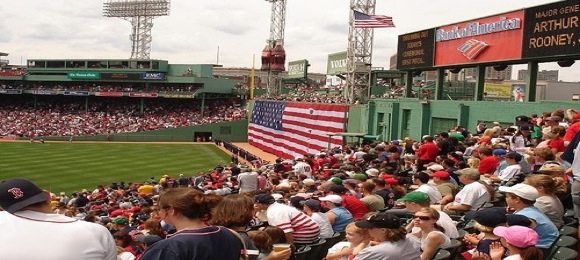 Fenway Park, Boston © JS Catty
Wrigley Field is the home of the Cubbies. With one of the most loyal fan bases in baseball, the Chicago Cubs have failed to win a World Series title since 1908. That was President Theodore Roosevelt's last year in office. Despite the struggles, The Friendly Confines is still filled with passionate Cub fans waiting for a little luck to finally help their beloved Cubs. Together with the fun-loving supporters is a classic ballpark with an outfield wall covered with ivy.
Do note that the 7th inning stretch isn't a time to run off to the restroom. It's reserved for the best rendition of Take Me Out To The Ball Game in the majors. Be ready for the local version that is sung in unison by the crowd: "Root, root, root for the Cubbies, if they don't win it's a shame. For it's one, two three strikes your out at the old ball game."
Oriole Park at Camden Yards (Baltimore Orioles)
Camden Yards is the home of the Baltimore Orioles. It was opened in 1992 and represented a revolution in baseball stadiums. Oriole Park was a return to a baseball-only facility. The two decades before this ballpark saw a slew of multi-sport stadiums that were rarely aesthetically pleasing or ideal for seeing the field from the seats. After selling out every game for several seasons, Camden Yards has seen lots of empty seats for the last few years. The retirement of Cal Ripken, Jr. (record for the most consecutive games played) and a poor product on the field have been two factors for the lack of attendance.
Remember to bring your baseball mitt when sitting in the outfield seats as Camden Yards in known for allowing lots of homeruns.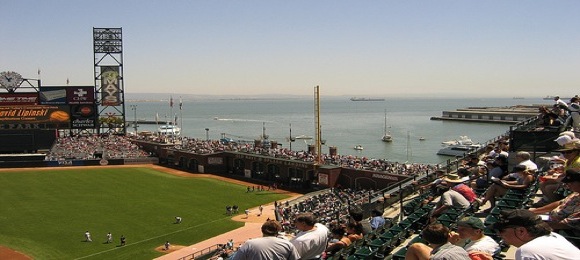 AT&T Park, San Francisco © Scatterbrained
AT&T Park (San Francisco Giants)
The home of the Giants has undergone a number of name changes in connection with the recent move toward corporate naming rights for ballparks. It has been called Pac Bell Park, SBC Park, and AT&T Park. Built on San Francisco Bay, the ballpark has a beautiful backdrop. For years, fans cheered on Barry Bonds as he hit homeruns into the bay, which is better known to the Giants faithful as McCovey Cove. Though still a great place to catch a ball game, AT&T Park has lost much of its energy since Bonds broke the all-time homerun record. While most ballparks greeted Bonds with contempt for allegations of steroid use, Giants fans continued to love their slugger until he was not re-sign after the 2007 season.
When buying tickets for a Giants game, check the team's pitching rotation. Select a game that's being pitched by Tim Lincecum. Lincecum won the 2008 Cy Young Award, which is given to the league's best pitcher.
Dodger Stadium (Los Angeles Dodgers)
Dodger Stadium is the home of the LA Dodgers. The recent host of the World Baseball Classic finals, Chávez Ravine is the third oldest ballpark in the majors. After decades of calling Brooklyn home, the Dodgers were moved to Southern California. A beautiful spot to catch a ball game, Dodger fans have witnessed 4 World Series titles in forty-seven years in Los Angeles.
Do note that unlike East Coast baseball, there is a very laid back atmosphere at Dodger Stadium. Don't be shocked to see fans arrive late or leave before a game ends. Think zen of baseball as opposed to the Red Sox Nation's living and dying with every pitch.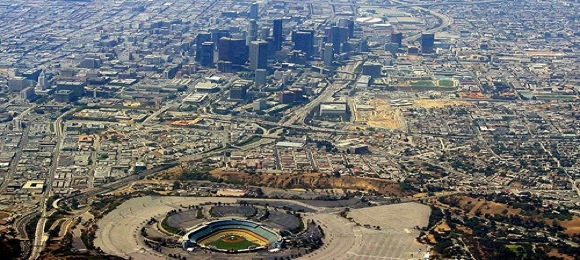 Dodger Stadium © Kla4067
The Future and the Past
Citi Field (New York Mets) and Yankee Stadium (New York Yankees)
Two new ballparks opened in 2009 giving visitors even more things to do in NYC. It marks the end of an era for "The House That Ruth Built" in the Bronx. Yankee Stadium was home to 26 World Series championships. Yankee fan or Yankee hater, the ballpark had a special aura that will be difficult to top with their new park. That being said, hearing the chants of Bleacher Creatures including the daily role call of the starting players will ring true in any park.
Shea Stadium didn't have the aura of Yankee Stadium, but it was home to the Miracle Mets of 1969 and the World Champs of 1986. Despite some great memories, Mets fans are eager to leave Shea behind for a state-of-the-art ballpark. Citi Field promises to meet even the highest expectations with superb sightlines within the context of a classic ballpark.
Read about the best NBA arenas to visit or the best NFL stadiums to catch some gridiron action.
___________________________________________________________________________________


Gennaro Salamone is the founder and editor of Enduring Wanderlust. Feel free to contact him with questions, comments, or inquiries with reference to contributing an article or photograph for publication.
Receive our free content by e-mail directly to your inbox or through an RSS reader.
Angkor Wat is a historic temple complex near Siem Reap, Cambodia. It has been used as a religious temple for several faiths including Hinduism and Buddhism. The structures are locally influenced by the classic Khmer architectural design. With more than eight hundred years of history, Angkor Wat is on almost every must-see list for travelers headed to Southeast Asia.
Follow this photographic journey into the temple complex: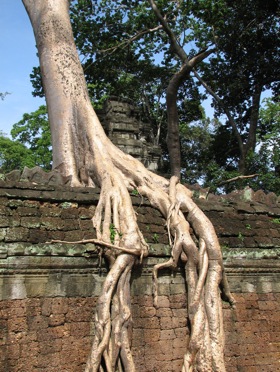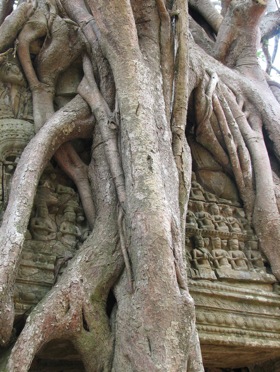 Angkor Wat, Cambodia © Gennaro Salamone
Massive tree roots engulf many of the temple structures especially at Ta Prohm. That's where scenes from Angelina Jolie's Tomb Raider were filmed. It's also one of the most visually pleasing segments of Angkor.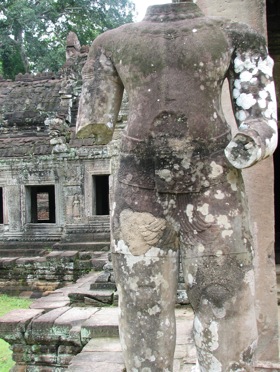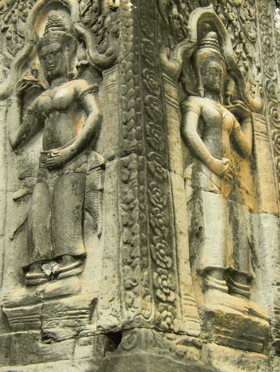 Angkor Wat, Cambodia © Gennaro Salamone
The space is filled with lots of detailed figures. Many of them represent Hindu devatas (deities or celestial beings). Along with that representation comes a variety of Hindu stories told through carvings in the stone.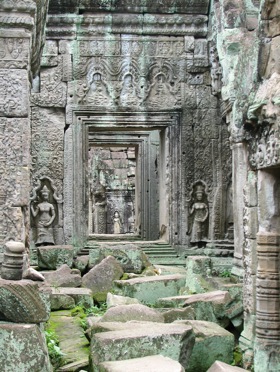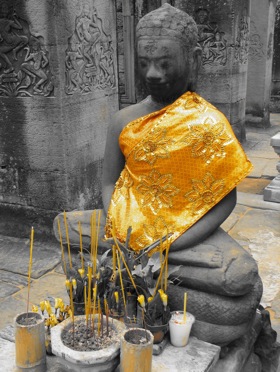 Angkor Wat, Cambodia © Gennaro Salamone
Buddhist statues demonstrate later influences at Angkor Wat. At the same time, scattered stones and partial structures show years of wear and tear at the grand temples.
For tourists visiting Angkor Wat, the temple complex has hundreds of structures over a considerable distance. Consider spending several days viewing them. Hiring a motorbike or renting a bicycle is a great way to get around.
View another journey featuring Bodh Gaya, India photos.
___________________________________________________________________________________


Gennaro Salamone is the founder and editor of Enduring Wanderlust. Feel free to contact him with questions, comments, or inquiries with reference to contributing an article or photograph for publication.
Receive our free content by e-mail directly to your inbox or through an RSS reader.