A Scenic View of New York City
New York City has a captivating urban landscape. Follow this photographic journey through the lens of local New York photographer, James Maher.
This is a time-lapse exposure of a busy city crowd moving through Grand Central Station.  The effect was created completely in-camera. The woman seemed to be a lonely tourist waiting for someone to come rescue her.  She was so amazingly still that she looked afraid to even move. I never saw anyone come, and she soon walked off by herself.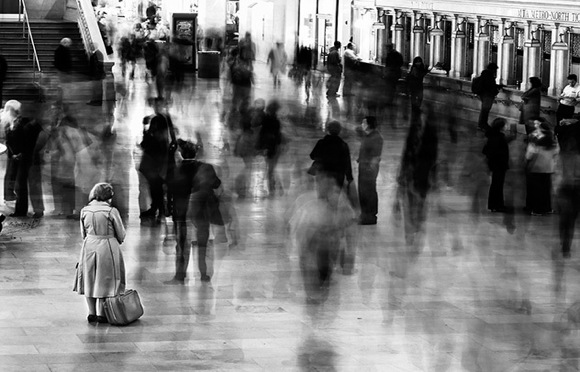 Waiting in Grand Central Station, New York City © James Maher
This is a photo that I've been wanting to take for a long time. It captures two New York City subway trains in motion. This image was also created completely in-camera at the 72nd Street station in 2010.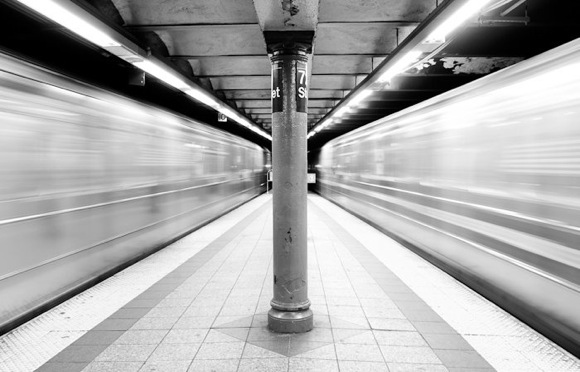 Subway Trains in Motion, 72nd Street, New York City © James Maher
This photo was taken from the top of my mother's building on Broadway and 94th street on a hot summer night in June of 2007. Lightning was flashing all around the building and the wind was gusting hard. Soon after this photo, it started to pour and the lightning strikes got close enough that I thought it best to leave. Earlier in the day, it is believed that one of these strikes hit a substation in Queens and was the cause of a blackout in the Bronx and on the Upper East Side, which created a lot of chaos during the 90 degree weather.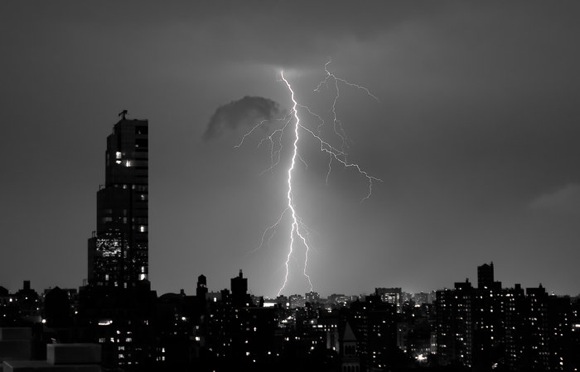 Lightning over Manhattan, New York City © James Maher
This photo was taken during the huge blizzard that hit the city in 2003. The snowstorm created such bad conditions that for much of the day I was completely lost in the park. At some point I found this bridge to seek refuge under. It didn't take long before this couple came along with the same idea.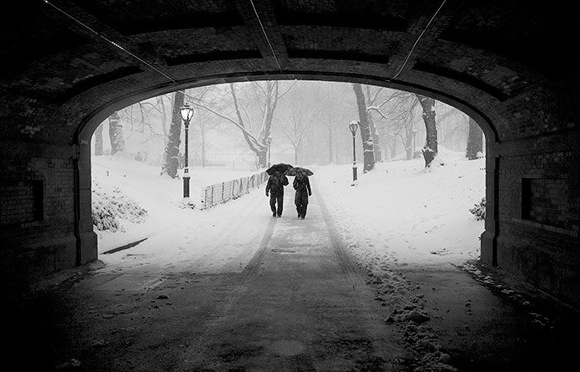 Couple in Snowstorm, Central Park, New York City © James Maher
The Chrysler Building, in my opinion, is the most iconic building in the city. The Gargoyles are probably the most talked about aspect of this classic Art Deco building, but I much prefer the metal spire, which can often be seen glinting like a diamond in the hot sun, or glowing throughout the night.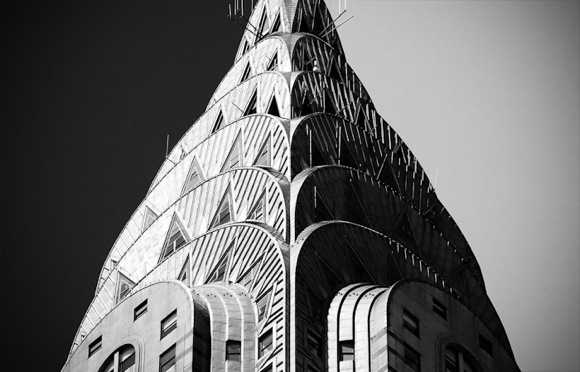 Chrysler Building Spire, New York City © James Maher
___________________________________________________________________________________


James Maher is a fine art street and studio photographer based in New York City.  James credits his inspiration for photography to his love for the city and its endless supply of personalities to capture and streets to explore.  His New York photography consists of both scenic and architectural views of the city, as well as the closeup daily life of the people on the streets.
Receive our free content by e-mail directly to your inbox or through an RSS reader.