20 Travel Tips From Our Commenters
Joanna Young of Confident Writing recently compiled an excellent resource for fighting writer's block by using suggestions from her readers. That inspired Enduring Wanderlust to select 20 helpful travel thoughts from our commenters. The personal experiences and incites of our readers are an invaluable resource. Read through the list and feel free to add your favorite and unique travel tips in the comment section.
Visiting Great Cities
1. I like strolling in the Lower East Side and visiting the Essex Street Market or going to Chelsea Market. NYC's Green Markets are a great place to see what's local and seasonal and where lots of great chefs get their produce.
Katie Parla | Katie Parla.com
2. I would also add the free outdoor movies shown during the summer months in Bryant Park (NYC) and at the foot of the Brooklyn Bridge in DUMBO.
Wendy | Escape From New York
3. We went to Paris a few years ago for Valentine's Day. That's definitely the most romantic city. Especially at night. You can view the city from atop so many different monuments (Arch, Eiffel Tower, Sacre Coeur).
Seth
4. I have been to Vegas at least a dozen times and the Bellagio fountains never get old. The Conservatory at the Bellagio also never gets old, as they change it for the season/holiday. [Test] drive a Ferrari's from the Wynn [Hotel]!
Ryan | Lifegawker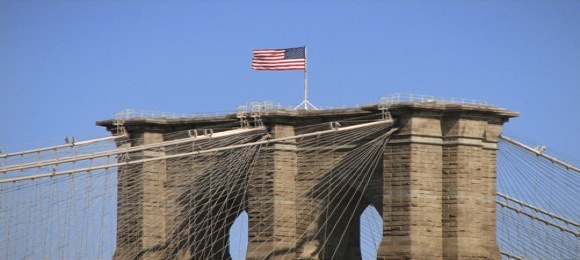 Brooklyn Bridge © Gennaro Salamone
Eating On The Road
5. Picking foods that are native to the area is a great way to have a picnic. Then all you need to do is find that "special" spot.
Barbara Swafford | Blogging Without A Blog
6. I have to agree on Di Fara [Pizza] and Grimaldi's as the top stops [in NYC]. Both deliver a great pie. I would add Patsy's to that list. It's right up there with Lombardi's and Totonno's.
Chris
7. The best pizza, naturally, comes from Italy. The best pizza I have ever had was made by a Roman who had a pizza bar in a neighborhood nearby [Australia]. Where most pizzas are made in electric ovens this guy used a wood oven. [Often the best foods come from neighborhood restaurants without famous names]
Sire | Wassup Blog
8. Una Pizza Napoletana [NYC] gets points for their crust with manages to mimic the texture, consistency and thickness of a Neapolitan crust. It fails in several ways: the center of the pizza is too thick. I want the almost translucent dough of Starita [Napoli] and Di Matteo [Napoli]. Also, their pizzas cost $21. A Napoli, 4 euros. Its dough. And marginally palatable mozzarella. Get real. And $10 for a glass of second rate wine. If the name "una pizza napoletana" wasn't crafted to evoke the ideas authenticity and simplicity, then I would have no qualms. But since it was, then I expect both.
Katie Parla | Katie Parla.com
On Giving Back
9. I'm planning on participating in Kiva.org. As a person who runs a business, I needed a loan at one point…I'd like to help other succeed. Especially, since it won't require much in a lot of those countries. I was in Peru a few months ago. I'll try someone from there.
Tim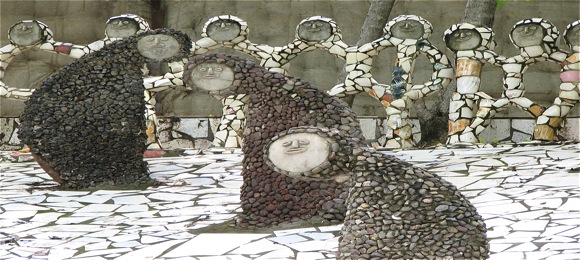 Rock Garden, Chandigarh © Gennaro Salamone
On Green Travel
10. Chandigarh was so much fun when we visited it. It was truly a pleasant surprise and a change from most of India's chaotic cities. The weather during monsoon season is a not as hot as in most parts of India because of its geographic location. The [rock] garden was an amazing experience. Be sure to visit manmade Lake Sukhna after the garden and take a boat ride.
Sima
11. Here in Philadelphia, Isaiah Zagar has created a "garden" and mosaic house out of basically junk. [It's called] Zagar's Magic Gardens.
Kim Woodbridge | (Anti) Social Development
12. Coyotes are spotted often in Oakland County Michigan, Detroit's northern suburbs. It's very common to watch wild pheasants walk across streets of rural Detroit. Wildlife is running out of wild so they are forced to adapt to nearby cities. The mix isn't always workable. Man always wins, even when we shouldn't.
Brian D. Hawkins | http://extremeezine.com/internet-marketing-newbie-niche-still-very-popular/
"target="blank"rel="nofollow">Extreme Ezine Marketers
Bringing In A Lucky Chinese New Year
13. Another thing that Chinese consider good luck is the pulling of Raw Fish strips (during Reunion Dinner which is end of CNY) – the higher it's pulled (vertically) from the table, the better.
Kelly | MyQute.com
14. I really like the idea of cleansing the house and body at the beginning of the year. It's like setting the tone for the rest of the year. It's human nature to judge something based on how it begins and ends. If you start off a year properly, then you are setting off on the right foot.
Trey | Swollen Thumb Entertainment
15. That's [luck for the New Year] what my mom's been stressing to us yesterday and today — oranges and a clean house. Phew I've been cleaning some parts of the house since yesterday. And we're not even Chinese!
Brian Karl | Brian Karl.com
16. I think one of the most important aspects to have a good year is having an environment that promotes balance and feng shui.
Elijah | The At Home Couple
17. In my family, a bowl of black-eyed peas on New Year is essential for good luck.
T Edwards | Poverty101.net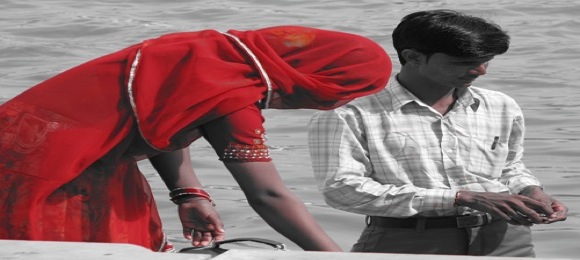 Conservative Clothing, Pushkar, India © Gennaro Salamone
On Staying Safe Abroad
18. In terms of sexual assaults, a big mistake that women travelers make in India – as they do in the Middle East – is to think that because it's hot they can wear next to nothing. Female travelers forget that India is a conservative society – Hindus and Muslims both so – and that wearing minimal clothing is provocative.
I don't think it's a matter of right or wrong, it's more a matter of appreciating that the culture (whichever culture it is) is different and as travelers we're guests (male or female) and we need to appreciate that culture regardless of what we think of its values.
Lara Dunston | Cool Travel Guide
19. "Safety" is such a broad word. Terrorist attacks [in India] are not my number 1 concern. Better measures are necessary for dealing with more everyday crime. Because when I am attacked when leaving a shopping mall in Kolkatta, I don't want to hear from the police that "it was probably my fault, because I must have provoked the thugs somehow" – as happened to me last January.
AnnaE | Budget Trouble
On Travel Gear
20. I used to have this [Canon Powershot SX10 IS] camera (or a previous version of it) and it is the best little camera. A great choice if you're looking for something a little more advanced than a small point-and-shoot but aren't quite ready to go into the DSLR arena.
Tabitha | From Single to Married
What was your favorite travel thought? Do you have a great tip to share?
Read about unique ways to select your next travel destination.
___________________________________________________________________________________


Gennaro Salamone is the founder and editor of Enduring Wanderlust. Feel free to contact him with questions, comments, or inquiries with reference to contributing a travel article or photograph for publication.
Receive our free content by e-mail directly to your inbox or through an RSS reader.